Posted in Books: Past and Present on October 23, 2017 by Esther Jackson
Esther Jackson is the Public Services Librarian at NYBG's LuEsther T. Mertz Library, where she manages Reference and Circulation services and oversees the Plant Information Office. She spends much of her time assisting researchers, providing instruction related to library resources, and collaborating with NYBG staff on various projects related to Garden initiatives and events.
---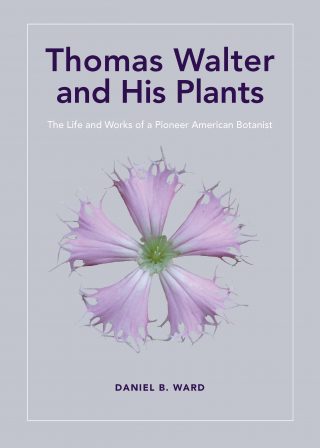 Thomas Walter and His Plants: The Life and Work of a Pioneer American Botanist, a new book from The New York Botanical Garden Press, documents how Walter named, for the first time, many native plants in North America in his Flora Caroliniana, published in 1788. Part history, but mostly scientific, Thomas Walter and His Plants will be of interest to botanists, bibliophiles, and history-of-science enthusiasts.
Flora Caroliniana was the first flora written in America that used Carl Linnaeus' classification system and binomial nomenclature. In terms of modern taxonomy, this is a very big deal. The way that plants are still named today has its basis in Linnaeus works, specifically his Species Plantarum, published in 1753. After this publication, binomial nomenclature became the standard for naming plants. Very simply, binomial nomenclature is a system of giving plants (and other living things) a Latin name containing two parts—a genus (which is a capitalized noun) and a specific epithet (which is a lower-cased modifying adjective, often descriptive or commemorative). (Read more about taxonomic ranks, including genera and species here.)