Posted in Books: Past and Present on December 13, 2017 by Esther Jackson
Esther Jackson is the Public Services Librarian at NYBG's LuEsther T. Mertz Library, where she manages Reference and Circulation services and oversees the Plant Information Office. She spends much of her time assisting researchers, providing instruction related to library resources, and collaborating with NYBG staff on various projects related to Garden initiatives and events.
---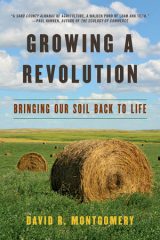 As 2017 comes to an end, it's time to look back on the best popular science books of the year. This list represents my favorites.
Growing a Revolution: Bringing Our Soil Back to Life by David R. Montgomery
$16.95. W. W. Norton & Company, Inc.
This was far and away one of my favorite books of 2017, and one that I enthusiastically recommended to many others throughout the year. David R. Montgomery challenges the "norm" in industrial farming soil care. With research, interviews, and an engaging style of writing, he invites readers and agriculturists alike to consider the ways in which soil fertility can be improved with better soil care and practices. Montgomery presents a better way to grow more food, save money, and build up soil that has been decimated through traditional industrial farming techniques. For those who live and eat in the United States, Growing a Revolution is a must-read. (Full review here.)