WeDigBio 2016: Crowdsourcing for Conservation and Climate Change Research
Posted in Interesting Plant Stories on October 20, 2016 by Lansing Moore
Charles Zimmerman is Herbarium Collections and Outreach Administrator for the William and Lynda Steere Herbarium at The New York Botanical Garden.
---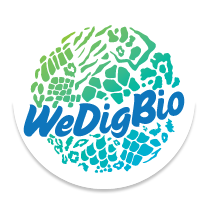 CALLING ALL ENVIRONMENTAL STEWARDS AND CITIZEN SCIENTISTS!
For centuries, biologists have explored and documented the natural world, collecting the billions of specimens now stored in museums, universities, and field stations worldwide. In the past few years, The New York Botanical Garden and other institutions across the globe have made tremendous strides toward unleashing the treasure trove of information stored in these collections for researchers and the general public.
Now, there is a way you can help!
On Saturday, October 22nd, from 10:30 a.m. to 3:30 p.m., The New York Botanical Garden's William and Lynda Steere Herbarium will partner with Fordham University to host a community-based Natural History Collection Bioblitz as part of WeDigBio 2016, a global four-day volunteering event focused on mobilizing biodiversity data from preserved museum specimens to advance scientific research.
All members of the public are invited to join, and no prior experience with museum specimens is necessary. Come meet and collaborate with NYBG staff, garden volunteers, community participants, and students at the Fordham University Rose Hill campus to share in this collaborative effort to make a massive impact on the advancement of knowledge about our natural world.
All attendees will be trained to utilize the widely accessible online software platform Notes From Nature to read and transcribe critical temporal and geographic information about museum specimens from digital images of pressed plants and their collection labels stored in the William and Lynda Steere Herbarium. Participants can work individually or in small-groups at computer terminals provided on-site. Volunteers are welcome to stay and work for as long as they wish so we can produce as many accurate transcriptions of museum specimens as possible during the event.
Prizes (including 20 All-Garden Pass tickets to The New York Botanical Garden) will be awarded to our highest achievers and winners of friendly activity-based competitions. All attendees can track their personal progress through the Notes from Nature digital Fieldbook, and see in real-time the cumulative achievement of the many thousands of amateur naturalists expected to participate in WeDigBio 2016 events across the globe.
Can't make it to the Bronx on October 22? No problem. You can participate in WeDigBio 2016 from anywhere. Simply check out www.WeDigBio.org to learn more and sign up for another in-person event, or log in as a virtual volunteer, and teach yourself to transcribe.
Following this year's unique research objective, "Mobilizing New England Vascular Plant Specimen Data to Track Environmental Changes," The New York Botanical Garden asks its volunteers to help decode the ecological effects of climate on natural landscapes through modeling temporal shifts in geographic distributions and plant phenology (flowering and fruiting cycles). To accomplish this, participants will strategically target historical plant specimens from Northeastern temperate forests in the United States and Canada, including some collected right here in the New York City area. Check out the official New England Vascular Plants website  (www.NEVP.org) for more details about the future direction of this research.
To R.S.V.P. for the event on the Fordham campus, please send an email with "WeDigBio 2016" in the subject line to Czimmerman@nybg.org or follow the link to our online sign up sheet.
Event Location:
Fordham University – Rose Hill Campus
Hughes Hall – Room 104
2691 Southern Boulevard
Bronx, NY, 10458, USA