Posted in Interesting Plant Stories on October 20, 2016 by Lansing Moore
Charles Zimmerman is Herbarium Collections and Outreach Administrator for the William and Lynda Steere Herbarium at The New York Botanical Garden.
---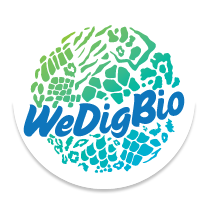 CALLING ALL ENVIRONMENTAL STEWARDS AND CITIZEN SCIENTISTS!
For centuries, biologists have explored and documented the natural world, collecting the billions of specimens now stored in museums, universities, and field stations worldwide. In the past few years, The New York Botanical Garden and other institutions across the globe have made tremendous strides toward unleashing the treasure trove of information stored in these collections for researchers and the general public.
Now, there is a way you can help!
On Saturday, October 22nd, from 10:30 a.m. to 3:30 p.m., The New York Botanical Garden's William and Lynda Steere Herbarium will partner with Fordham University to host a community-based Natural History Collection Bioblitz as part of WeDigBio 2016, a global four-day volunteering event focused on mobilizing biodiversity data from preserved museum specimens to advance scientific research.