Posted in New Plant Discoveries on November 21, 2016 by Daniel Atha
Daniel Atha is Director of Conservation Outreach for the Center for Conservation Strategy at The New York Botanical Garden.
---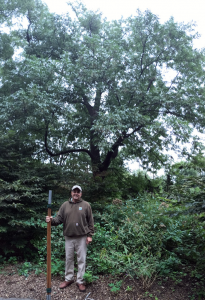 I previously reported on the discovery of pumpkin ash trees in Central Park, expanding the known range of the species into Manhattan. Now, recent discoveries have expanded the range of the species in the Bronx as well, bringing the number of known populations of this rare tree in New York to five (four in the Bronx and one in Manhattan).
In 1903, Nathaniel Britton, co-founder of The New York Botanical Garden and one of the most influential botanists of the 20th Century, collected a specimen of a "wild" ash tree in what was then the Botanical Garden's "North Meadow" (the site is now in the Bronx River Forest section of Bronx Park). Britton named the tree Fraxinus michauxii for André and François Michaux, a father-and-son team of 19th-century French botanists sent to catalog the arboreal treasures of North America. Taxonomists now consider Britton's tree only a minor variant of Fraxinus profunda (the pumpkin ash) and not worthy of species distinction. The tree from which he collected the specimen is now gone, but its descendants are alive and well in the region, as we are discovering.