Posted in Learning Experiences on November 2, 2016 by Laura Booth
Laura Booth is a Forest intern with The New York Botanical Garden.
---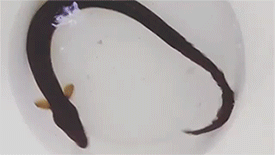 A quicksilver flash diverts your eye from the Bronx River's frothy flow over the 182nd St. dam at River Park. Was it just the remnants of a potato chip bag slithering downstream?
Look again, and quick! If you're lucky, you could glimpse an American eel, Anguilla rostrata.
Against unfavorable odds, the American eel has persisted in the urban waterways of New York since the city's inception—surviving years of industrial pollution, raw sewage dumping, and runoff. In recent years, their populations have entered a precipitous decline, driven in part by long-term effects of the damming of freshwater rivers and streams, which they require as habitat.
What makes this strange and wonderful species—its finely-scaled body coated in a mucous layer that is truly "slippery as an eel"—important?