Celebrating One of the World's Greatest Plant Research Collections
Posted in Videos and Lectures on March 6, 2017 by Stevenson Swanson
Stevenson Swanson is the Science Media Manager for The New York Botanical Garden.
---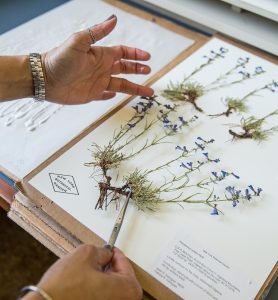 It's been called a "national treasure" by the National Science Foundation, but The New York Botanical Garden's William and Lynda Steere Herbarium is hardly a familiar feature of the NYBG landscape for most visitors.
In fact, if they were told that the Steere Herbarium is the second largest research collection of its kind in the world, they might well reply, "What in the World is a Herbarium?"
As it happens, that's the name of a new NYBG exhibition that showcases the central role that the Herbarium plays in the critically important plant research that takes place behind the scenes every day at NYBG.

In this lively video, NYBG President and CEO Gregory Long and Herbarium Director Barbara Thiers, Ph.D., not only answer the question in the title but also take viewers on a quick tour of the exhibition's highlights.
What in the World is a Herbarium? will be on view in NYBG's Ross Gallery until October 29, 2017.