Tell Me Something I Don't Know—about Lichens
Posted in Interesting Plant Stories on December 7, 2017 by Stevenson Swanson
Stevenson Swanson is the Science Media Manager at The New York Botanical Garden.
---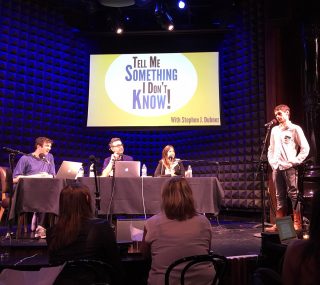 Readers with an interest in economics and listeners to public radio know Stephen J. Dubner as one half of the writing team behind the best-selling 2005 economics-for-everyman book Freakonomics and as the host of the program Freakonomics Radio.
A triple threat, Dubner is also the host of a game show podcast, Tell Me Something I Don't Know, in which a handful of guests with a particular expertise talk to Dubner and his co-hosts about their subject and then the audience votes for its favorite expert. The prize: the satisfaction of winning and a nice commemorative certificate.
In a recent episode, "Farming without Sun or Soil and Manna from Heaven," NYBG Assistant Curator James Lendemer, Ph.D., talked about his passion—lichens, combinations of a fungus and an alga that play important roles in ecosystems by filtering water and air and by providing habitat and food for wildlife.
As Dr. Lendemer explains, lichens are so sensitive that they are considered an indicator of air quality, but they are also tough enough to survive in outer space.
To listen to the full episode—and it's worth listening to the end—head here.