New Jersey Lichens Give Up the Ghost
Posted in From the Field on January 22, 2018 by Science Talk
Jessica Allen, Ph.D., is a Post-Doctoral Researcher at the Swiss Federal Institute for Forest, Snow, and Landscape Research in Birmensdorf, Switzerland. James Lendemer, Ph.D., is an Assistant Curator in the Institute of Systematic Botany at The New York Botanical Garden. Lichens are their primary research interest.
---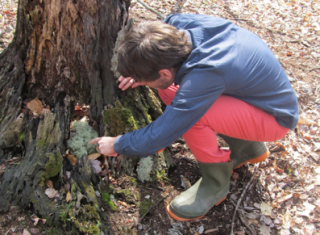 In April 2015, we carefully removed two species of lichens from their original homes at the Rutgers Pinelands Field Station in southern New Jersey, wrapped them in tissue paper, and transported them to the Thain Family Forest at The New York Botanical Garden. Once there, we hung one species, called old man's beard (Usnea strigosa), in trees, and we nestled the other, known as reindeer lichen (Cladonia subtenuis), on the forest floor. These species used to live in New York City but were extirpated by the early 1900s because of decreasing air quality. Now that air quality is improving in the city, we were curious to test whether or not the species were ready to be brought back.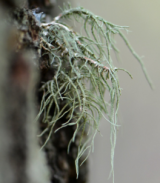 Six months after we brought them to their new homes, the lichens were still alive and well. Over the past two years we checked on the New Jersey transplants periodically, noting at times the disappearance of a few individuals. However, no drastic changes were observed.
In August 2017, more than two years after the initial move, we visited the site to find that the lichens' short time in New York had come to an abrupt end. Only a few small fragments remained, broken and scattered.
What happened to the lichens?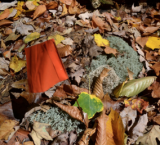 A combination of air pollution and disturbance likely caused their untimely end. There was noticeable, increasing discoloration in the old man's beard over time, and the reindeer lichen seemed to be an attraction for squirrels, birds, and even potentially urban foragers.
Whatever the specific cause, it's not yet time for these species to return to New York City. With continued policies to increase air quality and improve the health of our green spaces, however, we hope these lichens will eventually be able to again call New York City home.