New York State Honors NYBG's Commitment to Energy Efficiency and Sustainability
Posted in Events on November 15, 2019 by Stevenson Swanson
Stevenson Swanson is the Associate Director of Public Relations at The New York Botanical Garden.
---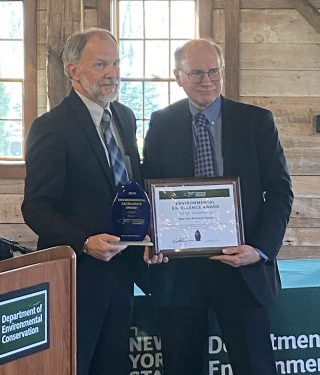 The New York Botanical Garden has received a New York State Environmental Excellence Award for 2019 in recognition of the Botanical Garden's ongoing commitment to being a leader in the Empire State in reducing energy use and carbon emissions and increasing the sustainability of its operations.
The Garden was one of only four organizations to be honored with the award, which is presented annually by the state's Department of Environmental Conservation (DEC) to recognize outstanding efforts to achieve a more sustainable New York. A statewide review committee selected the winners from an array of competitive applications.
"The New York Botanical Garden is honored to be recognized by the New York State Department of Environmental Conservation with this award," said Carrie Rebora Barratt, Ph.D., CEO and The William C. Steere Sr. President of The New York Botanical Garden. "At a time when plants are under threat as never before, NYBG is proud to be a leader in environmental stewardship and sustainable development on our 250-acre campus in the Bronx and in areas of critical conservation concern throughout our region, across the country, and around the world."

The award cited NYBG's innovative programs and initiatives in renewable energy, sustainability, conservation, research, and education. The DEC noted that the Garden has charted a course for an 80 percent reduction in greenhouse gas emissions by 2050.
"Facilities are being transformed into a 21st century model of energy efficiency and sustainability, and NYBG has already achieved a 50 percent decrease in carbon per square foot of building area," the award citation said.
In addition, NYBG annually offsets more than 200 metric tons of carbon from tree growth at the Garden and another 275 metric tons from composting operations.
The DEC added that NYBG's gardens are maintained in an eco-friendly manner by using natural alternatives to chemical pesticides and fertilizers, and it introduces garden-based sustainability and science curricula to public schools across the Bronx, serving more than 90,000 students annually.
"The Environmental Excellence Awards give DEC the opportunity to recognize the good works of companies and organizations that are committed to greening their operations and finding innovative ways to contribute to a healthier environment," DEC Commissioner Basil Seggos said. "This year's award winners are an elite group serving as models of excellence within their communities and I hope they inspire others to undertake like-minded projects."