Posted in Interesting Plant Stories on August 1, 2017 by Julia Beros
Julia Beros has worked or interned at The New York Botanical Garden for more than two years, including at the Pfizer Plant Research Laboratory and the Ruth Rea Howell Family Garden. In May, she graduated from Sarah Lawrence College.
---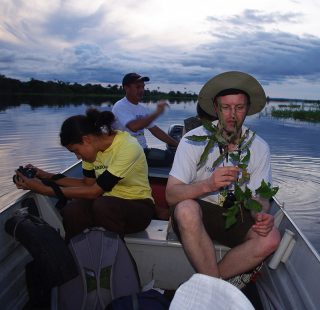 It's hardly a secret that the Amazon rain forest, the largest expanse of tropical rain forest on earth, houses great biodiversity and that environmental degradation from climate change and human enterprise is a massive and looming threat throughout the region. The most critically threatened areas also happen to be the least studied and inventoried, but they are estimated to have the highest biodiversity within the Amazon rain forest. NYBG scientist Benjamin Torke, Ph.D., is working to fill in the gaps in our understanding of the rich plant life in one such area in the state of Pará in the southeastern part of the Brazilian Amazon.
Recently, environmental degradation has threatened the potential for capturing and sharing this knowledge. In the southeastern regions of the Amazon, many of the detrimental effects of climate change are heightened by expanding human development. Ranching, logging, soy bean farming, mining, and settlement all contribute to the loss of natural habitat. The construction of a highway that bifurcates the forest has simultaneously created isolated regions of biodiversity and increased the rate of forest degradation. The potential loss of biodiversity is almost visible from satellite images in which beige hatched lines scratch across the dense green rain forest.