Posted in Nuggets from the Archives on June 29, 2017 by Lisa Vargues
Lisa Vargues is a Curatorial Assistant at The New York Botanical Garden's William and Lynda Steere Herbarium. Her work includes digitizing plant specimens, historical and new, from around the world for the C. V. Starr Virtual Herbarium.
---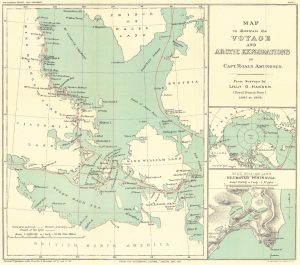 On August 31, 1906, a small Norwegian ship, the Gjøa, edged toward the coast of Nome, Alaska, in the darkness of night. The ship's captain and five crewmembers were thrilled when a brilliant search light beckoned to them from the shore, and Nome's residents greeted them with enthusiastic cheers and a chorus of the Norwegian anthem. It was a tremendous moment: the 70-foot-long Gjøa had just completed the first successful voyage of a single ship and expedition through the treacherous Northwest Passage, the sailing route joining the Atlantic and Pacific Oceans along the top of North America, through the complex maze of the Arctic Archipelago.