Posted in Nuggets from the Archives on May 8, 2015 by Lisa Vargues
Lisa Vargues is a Curatorial Assistant at The New York Botanical Garden's William and Lynda Steere Herbarium. Her work includes digitizing plant specimens, historical and new, from around the world for the C. V. Starr Virtual Herbarium.
---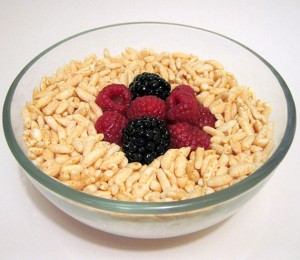 In December 1901, Nathaniel Lord Britton, the New York Botanical Garden's Director, reportedly (and understandably) appeared to be a little worried when a succession of blasts, sounding like gunshots, erupted from a third-floor lab in what is now the Library building. Thankfully, nothing was amiss. Botanist Alexander Pierce Anderson was immersed in a successful experiment that would not only prove a scientific theory but also transform breakfast for millions of people.
With suitable precautions, Anderson had used a hammer to crack open hermetically sealed and heated glass tubes, each containing corn starch, wheat flour, and, later, rice and other grains. All of the starch particles in the tubes had exploded, proving the theory, proposed by plant physiologist Dr. Heinrich Meyer, that a starch granule contains a miniscule amount of condensed water within its nucleus.