Red-Tailed Hawk Babies Leave the Nest
Posted in Wildlife on June 25 2009, by Plant Talk
Find Them and Other Fledglings on Final Bird Walk of Season
| | |
| --- | --- |
| | Debbie Becker leads a free bird walk at the Garden every Saturday from 11 a.m. to 12:30 p.m., September through June, beginning at the Reflecting Pool in the Leon Levy Visitor Center. This Saturday is her last of the season until September 5. |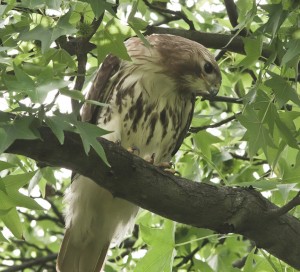 Summer—and all its activity—is just beginning for us, but this is the time when birds wind down. They began their busy season in February, in preparation for migration and nesting. They got ready for their long flight by eating more, a process called hyperphagia, so that they could go longer distances without stopping.
Now things have slowed for them. During the summer, though some species might have a second brood, for the most part the adults of many species, having reared their young, will be resting up for the fall migration back to their wintering grounds.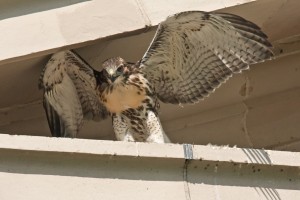 One adult pair here at the Garden—our nesting red-tailed hawks—have been kept active, however, with the successful fledging of their three babies. The siblings all took their first flight last week and can be seen hanging around the nest area—on the roof of the Library building, on nearby trees, and even on a bench, waiting for Mom and Dad to bring them food. But soon they will learn to hunt on their own.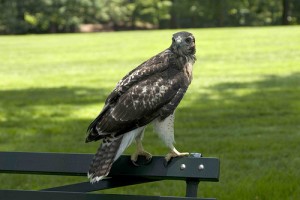 Come and look for the red-tailed hawk fledglings and other young birds on the final bird walk of the season. The walks will go on hiatus during July and August and return again September 5 in time for migration.
Top two photos by Richard Fleisher.