Book Review: Botanica Magnifica's Extraordinary Imagery
Posted in Shop/Book Reviews on October 15 2009, by Plant Talk
Garden Horticulturist Appears for Booksigning as Co-Author

John Suskewich is Book Manager for Shop in the Garden.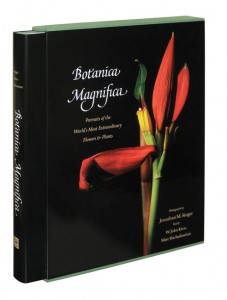 The publication of Botanica Magnifica: Portraits of the World's Most Extraordinary Flowers & Plants gives us an occasion to really celebrate the career of our wonderful orchid curator, horticulturist, and all-around plant enthusiast Marc Hachadourian, the book's co-author.
As Manager of the Nolen Greenhouses here at The New York Botanical Garden, Marc helps provide the spectacular range of material for the flowering displays that amaze and astonish visitors to our 250-acre Eden in the Bronx. This season, thanks to his propagation skills, the discerning observer would have seen Meconopsis in the Ladies' Border, the towering Echium pininana from this year's Dutch Bulbs spring flower show, and the usual killer show of waterlilies and lotuses in the Conservatory Pools.
But of all the plant families, Marc seems to have the greatest kinship for the Orchidaceae. This relationship is beautifully expressed annually in the work he does curating The Orchid Show in the Haupt Conservatory, in the displays he puts on throughout the year in the Library building Orchid Rotunda, and now between the covers of the quite striking new book, Botanica Magnifica. But he doesn't stop there; he goes beyond orchids and has written more than half the text for the book.
It is an understatement to call this a luxurious volume of flower photography. Botanica Magnifica contains 250 portraits of rare and exotic plants taken by Jonathan Singer "in a manner evocative of Old Master paintings" (ARTnews). He is a Hasselblad Laureate Award winner—like an Oscar for shutterbugs—and his orchid images are especially memorable: the cymbidiums, dendrobiums, and Polyradicion, better known as the ghost orchid, float and fly and drip and droop against their black background with a sculptural quality that belies their transient beauty.
Marc supplied the text for the orchid section and you can sense the ardor he feels for his subject. Orchids," he writes, "seem to possess qualities and characteristics that place them beyond the scope of other plants." Perhaps it is because they are the most highly evolved of monocot plants that they seem to be flowers "squared," their beauty made exponential by eons of development, natural and manmade. All this natural history and all this human history are embodied in their exquisite flowers, photographed peerlessly.
We are pleased to be hosting a signing of Botanica Magnifica with Marc Hachadourian on Saturday, October 17, at 3 p.m. at Shop in the Garden. That day is also the opening of our fall exhibition Kiku in the Japanese Autumn Garden. Marc helps put that show together as well. Should be fun and beautiful!