In Search of the Brittons
Posted in People, Science on November 17 2009, by Plant Talk
Staffer Discovers Home, Resting Place of NYBG Founders on Staten Island
| | |
| --- | --- |
| | Lisa Vargues is Curatorial Assistant of the Herbarium. |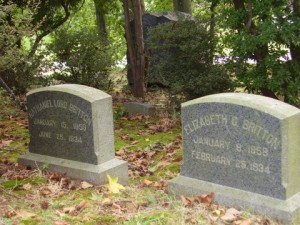 In honor of the 150th birthday this year of Nathaniel Lord Britton (1859–1934), who with his wife, Elizabeth Gertrude Britton (1858–1934), founded The New York Botanical Garden, I set out to retrace some of his footsteps. My pursuit provided further insight into his life and brought some fascinating places to light.
This spark of nostalgic curiosity came over me ever since I started working on the Flora Borinqueña Digital Herbarium and Library, a project that makes available online the unpublished manuscript of the popular flora of Puerto Rico— along with images of related specimens—that Britton was working on at the time of his death.
After more than 70 years, Britton's final manuscript emerged from storage, and in a Rip van Winkle moment has been resurrected in a brand new era of computers and digitization. Ironically, Britton was resistant to installing electricity ("an unnecessary luxury") in the Garden's Museum building (now the Library building), and instead frugally worked by gaslight, according to The New York Botanical Garden: An Illustrated Chronicle of Plants and People.
While transcribing some of Britton's last written words in the Flora Borinqueña, including his shaky handwritten marginal notes, I wondered where the Brittons' final resting place is and whether there are any remnants of their life here in New York, outside of the Garden.
And so my search began.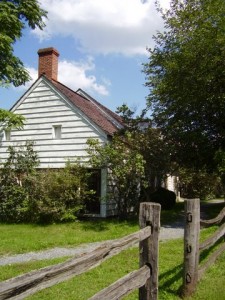 Unfortunately, I quickly learned that the Brittons' 2965 Decatur Avenue home in the Bronx, where Nathaniel Lord Britton died, disappeared long ago. Yet, after rummaging through a few Garden history books and local history Web sites, it became clear that I must head to his birthplace: New Dorp, Staten Island, where his family roots are deeply planted and a few Britton relics still remain intact.
I was pleasantly surprised to learn that his longtime former residence and ancestral home is not only still standing but also preserved in a living history museum, Historic Richmond Town. In this collection of about 30 historic buildings, the Britton Cottage (pictured) is the oldest structure, dating back to ca. 1670. A 1940 publication, The Britton Cottage: The Story of Its Construction, by Loring McMillen, mentions that in the "southerly attic room, Dr. Britton, by the light of the two small windows or an oil lamp, wrote part of his famous Illustrated Flora of the Northern United States and Canada, published in 1896–8."
Just 2 miles from the Britton Cottage is where the Brittons now rest, in the beautiful and vast Moravian Cemetery (photo above). Elizabeth's death in February 1934 had a traumatic impact on her husband, and he passed away from a stroke just four months later (they had no children). Thanks to the Cemetery's on-site database and the enthusiastic help of Richard Simpson, the Cemetery's historian and tour guide, I found myself standing on a lovely hilltop on Atlantic Avenue peering at the very simple adjacent gravestones of Nathaniel Lord and Elizabeth, shaded by a large sweetgum tree. Surrounding them are Nathaniel Lord's parents, brother, and sister. I found it meaningful to be standing in the area where the botanical world made its first impressions on Nathaniel Lord Britton, and where he and Elizabeth made their final "return" to nature.
It is, of course, outside the Cemetery gates where the memory of the Brittons is preserved in more tangible and enduring ways: the world-class New York Botanical Garden (first inspired by Elizabeth Britton), with its expansive collections; a mountain in Puerto Rico named in their honor; numerous plant names and publications; the Staten Island Museum, co-founded by Nathaniel Lord Britton; Historic Richmond Town; and, now the C.V. Starr Virtual Herbarium. Most significantly, the Brittons were dedicated to their field of research until the very end, and many will benefit from that dedication for generations to come.
For more on the Brittons and the founding of The New York Botanical Garden, read Britton's Botanical Empire by Peter Mickulas.