Posted in People on April 24 2018, by Joyce Newman
Joyce H. Newman is an environmental journalist and teacher. She holds a Certificate in Horticulture from The New York Botanical Garden.
---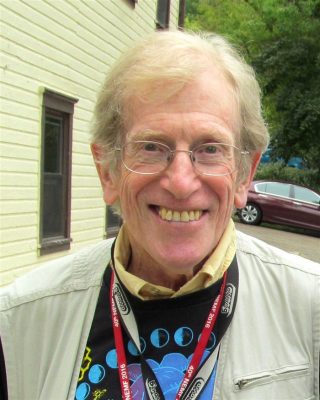 Gary Lincoff taught for more than 40 years at NYBG. He passed on March 16 after a stroke at the age of 75. For those of us who took Gary's classes, he remains so alive in our memories—his stories, the coursework he required, and his motivational advice are still working on our minds.
I first met Gary in the spring of 2011. I'm sure if he were alive that he wouldn't remember me at all from among the thousands of students he taught. But his course "Introduction to Plant Science" was one of the all-time best classes for me.
In his class, which was required for a Horticulture Certificate, we handled plant specimens that Gary provided from 10 major plant families and closely read chapters of Brian Capon's book Botany for Gardeners. But the most important course requirement for me was keeping a daily journal of plant "events"—what I saw each day on garden walks and how those things changed over time, using my own drawings and plant pressings. For the first time, I felt like a real scientist observing and discovering plants. Gary's class truly opened up a new world.