Posted in Exhibitions, Holiday Train Show on December 31 2009, by Plant Talk
I'm Back at the Garden; Please Come Visit—I Can't Wait to See You
| | |
| --- | --- |
| | Thomas the Tank Engine™ is an annual visitor to The New York Botanical Garden. |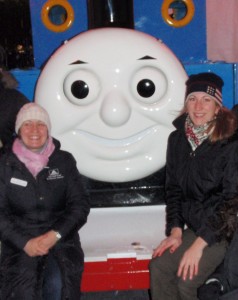 Hello everyone! It's Thomas, and I want to tell you about my next exciting destination—The New York Botanical Garden! I pull into the station on January 2 to welcome all the children who visit each day through January 10.
I see so many smiling faces every year during my visit to the Holiday Train Show. I sometimes wish I were small enough to wind through the miniature New York landscape made of sticks and leaves and pine cones like the trains in the Enid A. Haupt Conservatory.
At the Garden I have a very important job of meeting families at the Ross Lecture Hall and posing for photos with lots of boys and girls. Remember to bring your camera!
Sir Topham Hatt will travel with me to make sure we are right on time and that everything runs smoothly while we have fun at the Holiday Train Show. We've brought treats like stickers, tattoos, and coloring sheets to share with all our friends. Everyone can earn these and become honorary engineers when they come and see me.