Emily Dickinson's White Dress
Posted in Emily Dickinson, Exhibitions on June 4 2010, by Plant Talk
Reclusive Poet's Surviving Garment on Display in Library Gallery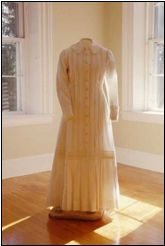 "A step like a pattering child's in entry & in glided a little plain woman with two smooth bands of reddish hair . . . in a very plain & exquisitely white pique & a blue net worsted shawl." This description Thomas Wentworth Higginson sent to his wife in 1870 has been pinned to Emily Dickinson for nearly 150 years. Mabel Loomis Todd heard about "the character" of Amherst almost as soon as she set foot in town in 1881: She "seems to be the climax of all the family oddity. . . . She dresses wholly in white, & her mind is said to be perfectly wonderful." (Photo: Emily Dickinson dress, ca. 1878–82; white dress (reproduction), Emily Dickinson Museum Collection. Original, Amherst History Museum collection)
These contemporary accounts have fixed a compelling image through the decades of, well, oddity. Poetic genius is different from the norm. But odd, isn't it, that the only full garment known to have belonged to Emily Dickinson and surviving to the present day is one white dress? This iconic garment belongs to the Amherst Historical Society, an exact replica is always on display at the Dickinson Homestead (now part of the Emily Dickinson Museum) in Amherst, and now one is on view in the LuEsther T. Mertz Library Gallery as part of the exhibition Emily Dickinson's Garden: The Poetry of Flowers.
But when we look at this dress, what do we see? It's just a simple house dress, called a "wrapper" in the late 19th century—the T-shirt and sweatpants of its day. Despite this somewhat inelegant comparison, the white dress now almost reverently associated with Emily Dickinson is an ordinary bit of domestic equipment worn by women of the day for doing chores and other informal activities inside the house. It's not a particularly unusual or expensive dress for its time. It's comfortable and easy to clean. In materials and style (including the single pocket on the right side) the dress is a profoundly conventional and practical garment of the early 1880s.
Such a typical garment. That's what makes it so superbly, breathtakingly special. Just consider how few of the clothes we wear to wash the car, rake the leaves, or clean the house fail to end up in a rag bag. The Dickinson difference is that, as she retreated from larger society, she seems to have abandoned the contemporary practice of changing into day dresses or visiting clothes.
No one knows just when or why Dickinson began to wear white. Her inclination for doing so seems to have begun sometime in the 1860s when she was in her 30s. Consider these parallel circumstances. The years between 1862 and 1865 were Dickinson's most prolific as a working poet, with a rate of production of between 200 and 300 poems in each of these years. It was also a time of great personal strain, the cause of which, again, we don't know with certainty. Drafts of intensely emotional letters to a "Master" figure date from this time, as does a confession to Higginson of a "terror" that "I could tell to no one." Around this time, Dickinson began a slow, sure withdrawal, which by 1869 led her to rebuff an invitation to visit Higginson in Boston, saying "I do not cross my father's ground to any house or town." On a larger scale, the country was locked in a devastating Civil War, the trauma of which emerges in several poems and letters.
One is tempted to select from these circumstances and assemble an explanation of why Dickinson chose to wear white in a way noticeable to others and meaningful to herself. Could it be that wearing white represented an obsession with death, or on the other side of the same coin, eternity, both subjects treated extensively in Dickinson's poetry? Might it symbolize purity or vocation as poet? Is it her alternative to association with organized religion?
A solemn thing – it was – I said –
A Woman – white – to be –
And wear – if God should count me fit –
Her blameless mystery –
(The Poems of Emily Dickinson, ed. R.W. Franklin, No. 307)
We can only guess at why Dickinson preferred white. Maybe she just felt fine in that color. One of her most engaging and lasting characteristics is the "blameless mystery" that she wraps around her poetry and around herself, keeping us at arm's length and always wanting to know what we never will.