Posted in Emily Dickinson, Exhibitions on July 7 2010, by Plant Talk
| | |
| --- | --- |
| | Jane Dorfman is Reference Librarian/Exhibitions Coordinator in the LuEsther T. Mertz Library. |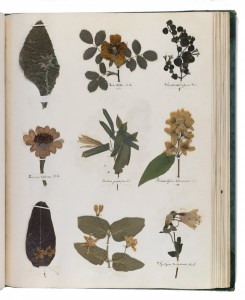 How did Emily Dickinson prepare her herbarium? That is the topic addressed in the current window display of the LuEsther T. Mertz Library's Rare Book and Folio Room.
At 14 years of age, Dickinson, inspired by her readings and botanical studies at Amherst Academy, gathered, dried, pressed, mounted, and identified over 400 plants for her herbarium. She was enthusiastic about the project. She asked her friend Abiah Root in a letter if she had made a herbarium yet and encouraged her to pursue such a project. Dickinson even enclosed a geranium leaf for her friend to press.
In the Library's William D. Rondina and Giovanni Foroni LoFaro Gallery exhibition of Dickinson's life, which runs through August 1, a digitized version of the poet's herbarium is on display. Made available through Turn the Pages Technology, visitors can view Dickinson's original herbarium virtually by "turning" the pages on a touchscreen. A printed version of Dickinson's herbarium is included in the Rare Book and Folio Room display.
This small exhibit shows how 19th-century botany enthusiasts created herbaria. The collecting tin (known as a vasculum) belonging to the celebrated botanist John Torrey is on display as well as a botany text by noted instructor Mrs. Almira Lincoln Phelps, a text that Dickinson used in her studies.
Also on view are the materials used in creating a herbarium today, including glue, twine, mounting paper, blotting paper, and a herbarium press. In addition, dried specimens of Monotropa uniflora (Indian pipe) and Heliotropium arborescens L. (heliotrope), two of Dickinson's favorite plants, are presented, courtesy of the Garden's William and Lynda Steere Herbarium..
The Rare Book and Folio Room display can be viewed during Library hours through Labor Day.