Mario Batali and the Garden Team Up for a Special Contest!
Posted in The Edible Garden on October 12 2010, by Plant Talk
New York's favorite orange Crocs-wearing chef is coming to The New York Botanical Garden on Saturday, October 16, and we couldn't be more excited!
So to celebrate we're running a contest in conjunction with the King of Eataly himself.  All you have to do is "like" both The New York Botanical Garden and Mario Batali on Facebook, and then leave a comment on both pages answering a simple question: What would you like to have Mario Batali cook for you if he were to come to your house? On the The Garden's page, base your answer on this post.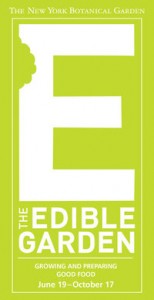 On Mario Batali's page, base your answer on this database of recipes.  And that's it!
Only people who leave a comment on both pages by 1 p.m. Friday, October, 15 will be entered into a drawing from which one winner will be chosen at random. We'll announce the winner on Friday afternoon on Facebook.
What's the prize you ask? If you're in New York City, we'll reserve two front-row seats at Batali's cooking demonstration just for you and a guest, plus you'll receive a special gift from Mario. Not in New York? Never fear! You'll still get the gift from Mario Batali, plus a little something from us!
So remember: Don't leave a comment here, leave it on each of the two Facebook pages. Buona fortuna!