A Few of Her Favorite Things: Nicole Perrino
Posted in Shop/Book Reviews on December 10 2010, by Plant Talk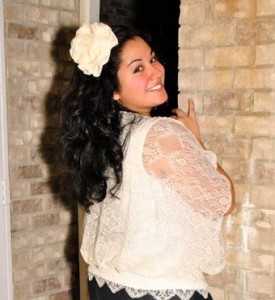 In addition to being the creator of BronxMama, Nicole Perrino is also a full-time graduate student. Having been in college for the past five years and only working part time, Nicole prides herself on her "frugalista" skills–throwing birthday parties, holiday gatherings, and decorating her house–all on a small budget. Friends love turning to her for help when it's their turn to plan an event.
Nicole's picks are based on the premise that if you really put thought into a gift for someone, you don't have to spend time worrying if you spent enough on each person. It's a sentiment evident in Nicole's thoughtful list of "Favorite Things" for holiday gift giving.
For the Gardener
I'd give this Celia Birtwell Watering Can to my neighbor who I always see in her backyard gardening (can't wait until I have some outdoor space!). Us BronxMamas usually don't have a ton of storage space, but this can is too beautiful to hide-perfect excuse to leave it sitting out!
For Kids
I'd definitely give this Mini Lemonade Stand Kit to my daughter Briana. I think all kids at some point in their lives want to have a lemonade stand, and I'm sure she'd make a ton of money-even if its just selling to mommy to daddy in our living room!
For the Host or Hostess
All good hosts like to be prepared for last minute guests. I love when people walk in my front door and comment on how great it smells in my house. This gift set of candles is perfect and the floral scents are amazing!
For Me
Being a BronxMama and a full time student, I'm always running around with everything but the kitchen sink on my shoulder-this Pink NYBG Floral Tote Bag would be adorable to run all over the Bronx to meetups, playdates and other BronxMama activities!
For Him
For the guy who grew up in the Bronx-The Arthur Avenue Cookbook is awesome. My hubby was-and just so happens to be a chef as well! Perfect!
For Her
I don't know a single woman who wouldn't want to show these Crown Imperial Plates off every time people come to visit!
For the Writer
Writers usually have 100 things on their mind, and this Clematis Note Cube will look beautiful sitting on their desk!
Want more gift suggestions from your favorite bloggers? Then watch this space! We'll be featuring many more in the upcoming weeks.