The Caribbean Garden With an Ethnobotanist
Posted in Gardens and Collections, Gardens and Collections, Learning Experiences, Video on February 16 2011, by Plant Talk
| | |
| --- | --- |
| | Rustin Dwyer is Visual Media Production Specialist at The New York Botanical Garden. |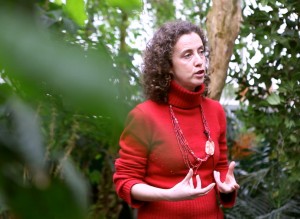 An Ethno-what? It's an all too common question for New York Botanical Garden Research Specialist Ina Vandebroek. Ethnobotany is a field many people take for granted and Ina finds that just saying "I work with plants" doesn't quite explain it. Traveling the Caribbean, Ina has worked with local communities to document how plants have been and continue to be used medicinally. We took a quick visit to the Enid A. Haupt Conservatory with Ina, where many Caribbean specimens are on display during The Caribbean Garden.
"Medicinal plants are a source for a lot of today's pharmaceutical medicines," said Vandebroek. "In a lot of places around the world people use plants as their only and first form of health care, so basically what ethnobotanists do is we go out to these remote places and we study how people use plants."
Despite the fact humans have been using plants since the dawn of time, when thinking of ethnobotany many find it hard to get past the ideas of beat-influence Richard Schultes and Sean Connory's rugged grey ponytail in the film Medicine Man. "It's so much more than hallucinogenics and finding the next cure for cancer," Ina said, laughing. "Its about helping communities that are really in need. We try to promote it as a science that can help local communities in conservation of their bio-cultural diversity."
Ina's current focus is on the flora of the Dominican Republic. She works not only in the Caribbean, but here in New York City with Dominican immigrants, frequenting many Botanicas."We try to give those results back to them in the form of guides books as well as workshops within the community. We can also have programs together with universities to isolate bioactive compounds and those could lead to new medicines for humankind."
Here's a quick video about Ina's thoughts on ethnobotany and a few of her favorite Caribbean plants on display now in the Conservatory.

You can find out a little more about her work
here
.