From the Field: Paola Pedraza-Peñalosa in the Colombian Andes
Posted in From the Field, Paola Pedraza-Peñalosa, Science on March 7 2011, by Plant Talk
Ed. Note: NYBG Scientist and Assistant Curator, Institute of Systematic Botany, Paola Pedraza-Peñalosa recently returned from an expedition to the Colombian Andes where she was without electricity and the Internet. Upon returning to New York, she filed these briefs about her time in the field. Follow her journey on Plant Talk.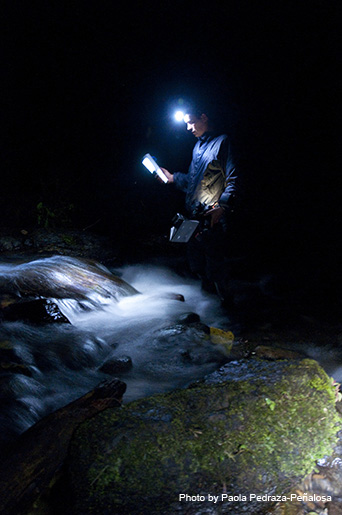 The Andes mountain chain, which crosses South America from north to south, is the longest in the world. The Andean forests of the northern range (Tropical Andes hotspot) are home to a level of plant diversity that is without match anywhere else in the world; they are also subject to high rates of deforestation, thus these forests are considered a top priority for conservation. Unfortunately, Andean forests remain insufficiently studied and protected. This lack of baseline information is often times the first impediment to effective conservation: It is impossible to efficiently protect what we do not know or understand.
To help fill these gaps, The New York Botanical Garden and the Universidad Nacional de Colombia have formed a partnership in order to inventory all the species of ferns, gymnosperms, and flowering plants of Las Orquídeas National Park, a forest reserve strategically located in the confluence of the Andean and Chocó biogeographic regions of Colombia.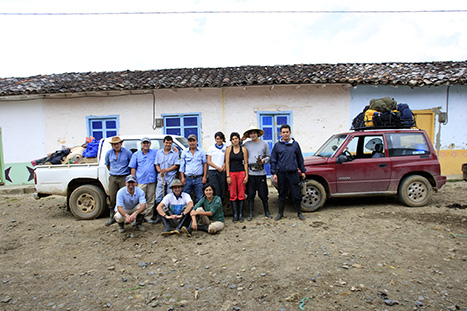 January 24 – February 4: Plant inventory at Las Orquídeas National Park; Antioquia, Colombia
After 14 days collecting plants in the field, we returned to Bogotá, Colombia's capital with nearly 700 plant collections, and more than 10,000 photographs. Behind us we left Las Orquídeas National Park's 32 thousand hectares of rare and endangered tropical and montane forests, which make it part of one of the most biologically rich ecosystems of the world: the Andean and Chocó forests. We left behind more than 2,000 species of vascular plants, some of them still unknown to the science and probably not found anywhere else.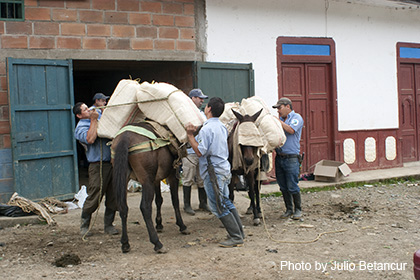 The following is an account of how we got there, what we did, and why what we found is important.
January 24, 2011; Urrao, Antioquia
We started our expedition in Urrao, a charming town nested in the Valley of the Río Penderisco in northwestern Colombia, and about 12 hours away from Bogotá. We are a team of 11 people including park staff, a photographer, botanists, and botany students.
It is only 7 a.m. but we are already impatient to leave; our goal is to make it to the park's field station before dark. The field station is far: First we have to drive to La Encarnación about two hours away, next we must unload and rearrange the luggage for the mules, and then hike for five to six hours. We have a long day ahead of us. There will be plenty of time for those riding to get acquainted with their mules; enough time for those on foot to cast envious looks at the riders when mistakenly thinking that going downhill on a mule for six hours is easy. Fortunately, we have the support of the park's director and his team of park rangers, a friendly group of seasoned people; they have made this trip countless times. In the days to come we will spend lots of time together, mutually exchanging lessons about plants, evolution, and life in the great outdoors.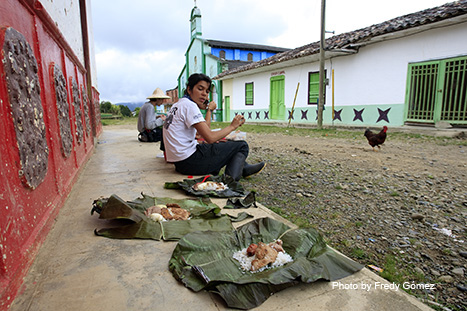 There is no electricity where we are going, no stores, no roads, no nothing; there is only forest. We have to take with us everything we might need. After much repacking and rebalancing the equipment on top of the mules, we finally headed for the field station after 2 p.m. Now there was no chance that we could make it before dark. There was nothing we could do; we had to sit back, relax, trust in the footing of our mules, let our guides take control, and enjoy the forest after dark. We made it to the cabin at 8:45 p.m. in a moonless night. We had to wait until the next day to see where we were.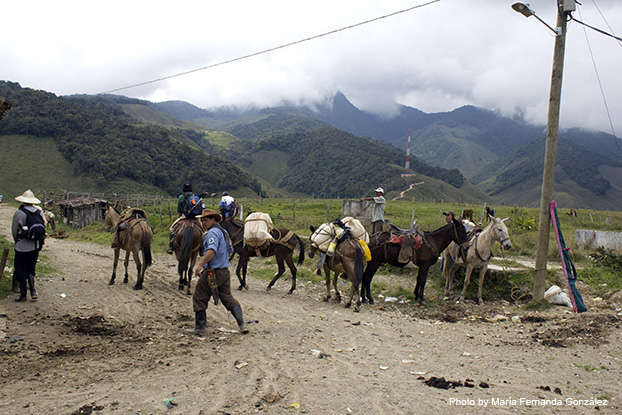 Acknowledgments: this project is funded by the National Science Foundation (NSF DEB 1020623). Photos courtesy of: Julio Betancur*, Giovanny Giraldo*, Fredy Gómez, María Fernanda González*, Paola Pedraza-Peñalosa. (Those marked with a * are affiliated with the Universidad Nacional de Colombia.)