Top Tips for Designing with Azaleas in the Home Garden
Posted in Gardening Tips on April 27 2011, by Sonia Uyterhoeven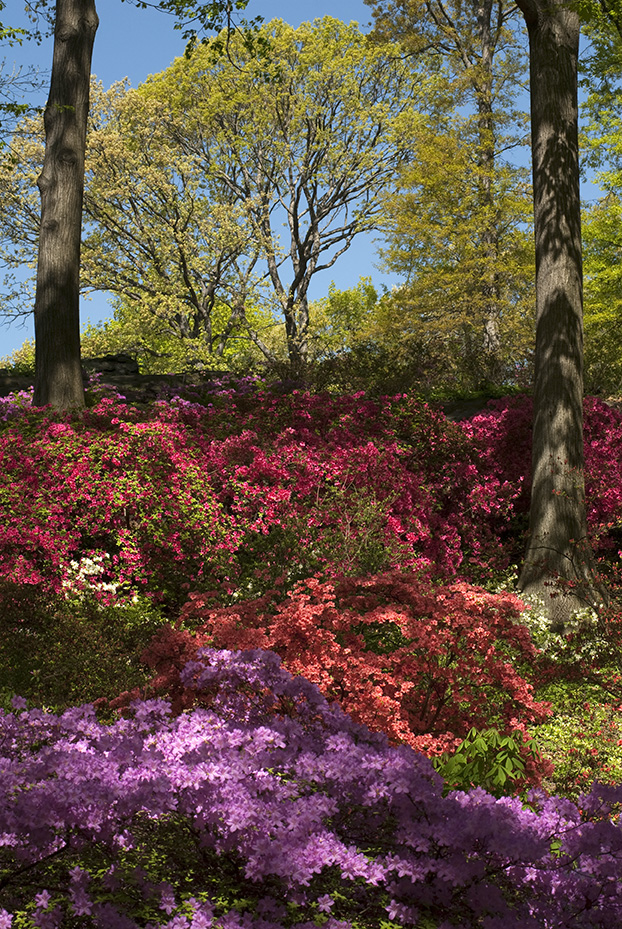 Azaleas, as seen in the Garden's spectacular new Azalea Garden, provide home gardeners with wonderful spring color that extends from April into July (depending on the species). Evergreen azaleas provide year-round interest while deciduous azaleas often offer multi-seasonal appeal and lovely fall foliage. Azaleas are slow growing; many of them, save some of the larger deciduous natives, make good candidates for foundation plantings. By following a few simple rules, it is easy to design effectively with azaleas.
Azaleas can be planted as specimens or in groups. The royal azalea (Rhododendron schlippenbachii) not only has luminescent pinkish-white flowers in late April/early May but also exquisite rounded foliage that is arranged like pinwheels on the stems, making it an ideal specimen plant.
The native flame azalea (Rhododendron calendulaceum) flowers in late May to early June in a variety of shades from fiery red-orange to yellow-orange (as the name would suggest). Specimens can reach up to 12 feet tall and 5 feet wide and rival any large Viburnum in the garden. When planted en masse, flame azaleas create a nuanced color harmony that will brighten any landscape; they do not look congested or dense due to their graceful structure. Though deciduous, they can provide seasonal screening in your yard.
Pay attention to bloom time when planting azaleas in groups. Azaleas can generally be categorized by three bloom times: early, mid, or late season. I have visited gardens where azaleas are effectively planted so that they flower sequentially; as one azalea fades its neighbor opens, providing color for extended periods. Or, weave a tapestry by planting groups of azaleas that flower at the same time.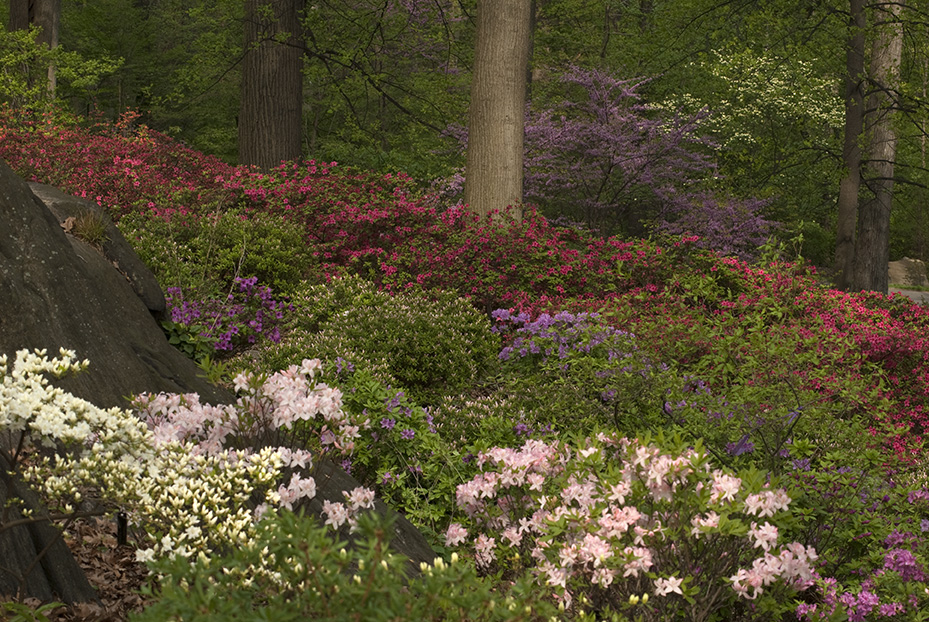 When working with color in your garden, do not mix too many bright colors together. Azaleas come in a broad spectrum of color: white, salmon, mauve, pink, purple, and all variations of red, orange, and yellow. Blend bright colors with paler shades or white, so as not to overwhelm. Every design needs moments where the colors blend and the intensity subsides to give the eye a chance to rest and absorb the scene.
Pay attention to the size and the growth habit of your azaleas when combining in groups. Azaleas come in all shapes and sizes. Some have an upright habit while others have a more sprawling or creeping habit. Small azaleas are wonderful additions to a rock garden or a well-defined edge of a border or foundation.
Pair deciduous azaleas with other deciduous azaleas, and match evergreens with each other. Combining deciduous azaleas with evergreen azaleas in an overall planting is fine, but when placed side by side they generally look best with their own kind.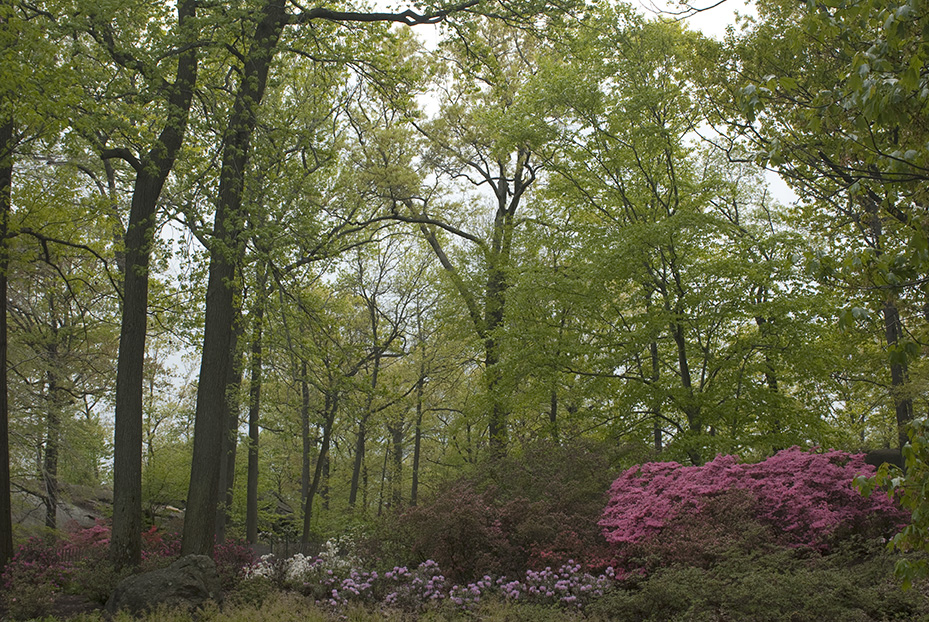 Place azaleas strategically in your yard where they can brighten up shadier areas. Years ago I worked at the New England Wild Flower Society's garden, Garden in the Woods. The garden was ablaze in the spring with early ephemerals, native dogwoods (Cornus florida), redbuds (Cercis canadensis), and an array of flowering azaleas. Specimen azaleas were staggered through the landscape. A winding path wove through the garden enticing visitors to follow the color bursts and move through the landscape. Staggering the azaleas as focal points (rather than planting in large groups) gave the impression that the landscape flowed on endlessly; the eye traveled from one colorful spot to another, making the space look more expansive.
Placing an azalea in a shady corner can brighten up or draw attention to an otherwise overlooked spot. Curves in garden beds can be accentuated in the spring with the bright burst of color. Evergreen azaleas add year-round structure to the garden, providing a solid framework when not in flower. Deciduous azaleas generally have a graceful habit and add a structural component throughout the season. They are also an important part in the fall garden design, highlighting areas late in the season and combining effortlessly with other plants that have fall color.
Interplant azaleas with a selection of native and non-native shrubs and perennials. Partner azaleas in the garden with woodland perennials such as ferns, wild ginger (Asarum), Solomon's seal (Polygonatum), hosta (Hosta), toad lily (Tricyrtis), and many others.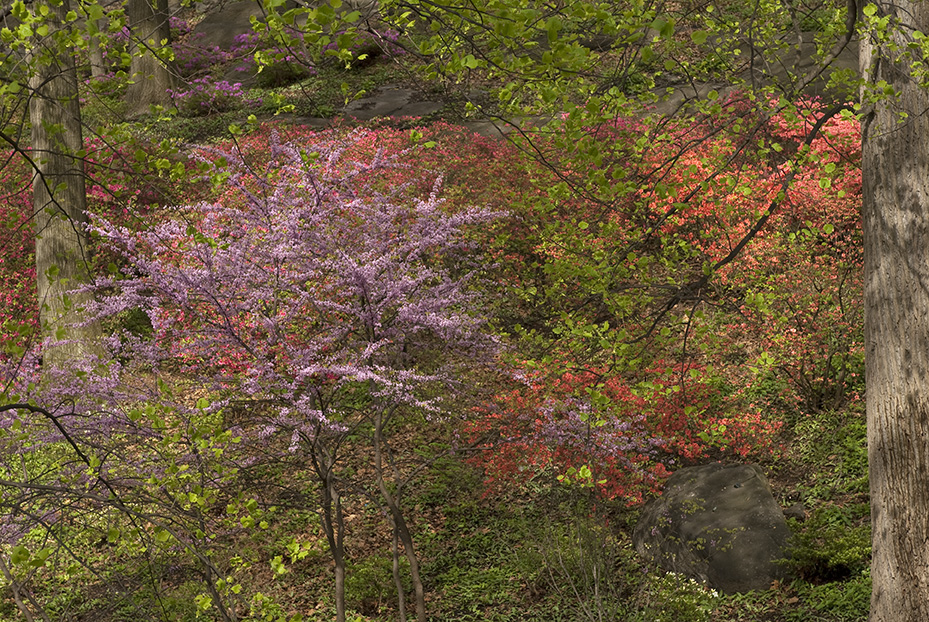 Combine azaleas with other flowering shrubs. Extend the flowering season and experiment with texture and foliage by combining azaleas with other attractive shrubs. The oak-leaf hydrangea (Hydrangea quercifolia) makes a natural choice, thriving in part shade and providing interest with its broad, oak-leaf foliage and late season flowers. Large fothergilla (Fothergilla major) blends well with large native azaleas, while the dwarf fothergilla (Fothergilla gardenii) complements smaller cultivated varieties.
Underplant azaleas with spring bulbs. Make the most out of seasonal moments in your garden. Pair spring-blooming azaleas with daffodils (Narcissus) that flower at the same time; yellow daffodils will enliven the scene, while white varieties with peach-colored corollas harmonize with many color schemes.