The Really Big Three: The Giant Pumpkin Showcase of Champions
Posted in Around the Garden on October 14 2011, by Karen Daubmann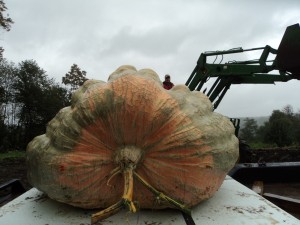 The New York Botanical Garden is proud to announce the Great Pumpkin Commonwealth's Showcase of Champion's winners for 2011!
Beginning Friday, October 21 the three largest pumpkins in the United States will be on display in the Garden's Visitor Center. Come take a look at Dave and Carol Stelts' 1,807.5 lb pumpkin grown in Edinburgh, PA. Also, be on the lookout for a plane from California bearing a 1,704 lb pumpkin grown by Leonardo Urena as well as the 1,693 lb pumpkin grown by Brant and Eleanor Bordsen.
Here is a look at the standings for all 1,471 entries at the 54 GPC weigh-off locations nationwide.
Come out and take a look at these giant pumpkins beginning Friday, October 21. Mingle with the giant pumpkin growers, tweet us a picture of yourself with the pumpkins, and don't miss our first carving weekend featuring Ray Villafane on October 22 and 23.

[Not a valid template]