Tanjou – A Sculpture of Rebirth at The New York Botanical Garden
Posted in Exhibitions, Exhibitions, Kiku, Video on October 5 2011, by Rustin Dwyer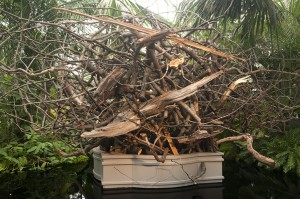 Tropical Storm Irene and her friend Lee certainly left their mark across the northeast. They left a trail of downed trees, broken limbs, and leaves pretty much everywhere. Not only did it give the arborists and horticulturalists here at NYBG plenty of work, but it also provided a unique situation for a commissioned sculpture in the Palm Dome of the Enid A. Haupt Conservatory. Internationally renowned installation artist Tetsunori Kawana–no stranger to working with natural materials–got the chance to try something new, recycling what would ultimately end up as compost or mulch into a sculpture, a "rebirth."
Kawana has partnered with the Garden many times in the past to construct detailed organic installations made of what has become his métier: bamboo. The stalks are long, durable, and most importantly almost uniform in their shape and composition. This year the storm damage provided a new opportunity, a chance to work with a medium almost infinitely less homogenous in shape and design. Kawana selected a range of sticks, roots, branches, stalks, and other woody materials to create an original artwork as the centerpiece to the Fall Flowers of Japan exhibition. In addition, this was the first project he had ever undertaken where the materials utilized were sourced directly from the site of the sculpture.
Appropriately, Kawana titled this project "Tanjou" meaning rebirth in Japanese.
With the help of a small and dedicated group of volunteers, Kawana erected the sculpture over the course of three days. Check out the entire process and hear from some of those involved in the short video below.
Tanjou is only one aspect of the Fall Flowers of Japan exhibition currently going on at the Garden. In addition to music, classes, concerts, and food, today, Wednesday, October 5, specially trained Japanese chrysanthemums, or kiku go on display. We've been highlighting them all week as we countdown to their arrival.