Posted in Kiku on October 28 2016, by Joyce Newman
Joyce H. Newman is an environmental journalist and teacher. She holds a Certificate in Horticulture from The New York Botanical Garden.
---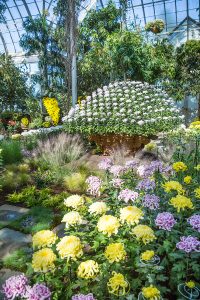 This year The New York Botanical Garden is celebrating chrysanthemums—the most iconic of all Japanese fall-flowering plants—in a new, awe-inspiring display. The Kiku exhibition (open through October 30) in the Enid A. Haupt Conservatory has a unique contemporary feel with new sculptural shapes as well as the older traditional forms.
Kiku means chrysanthemum in Japanese. It is the national flower of Japan, part of the Imperial Crest, and the subject of regular exhibitions at the Shinjuku Gyoen National Garden in Tokyo, where Japanese masters have trained New York Botanical Garden staff over the years to cultivate special shapes and colors in the traditional Imperial style.