Video: Take a Look Inside Fall Flowers of Japan
Posted in Exhibitions, Exhibitions, Kiku, Video on October 20 2011, by Rustin Dwyer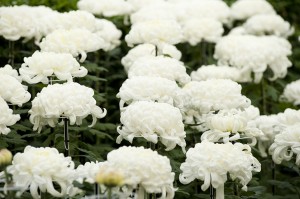 The New York Botanical Garden didn't just start growing traditional styles of Japanese chrysanthemum–called kiku in Japanese–on a whim. It's a labor intensive process that the Japanese have been perfecting for centuries, passing down techniques from generation to generation. Some of the more complex display styles can take a team of gardeners almost a year to pull off, which also includes the fabrication of multiple sets of giant metal frameworks upon which the flowers are trained. Training the plant, forcing its buds, timing the blooms; kiku is most definitely not for novices.
Fall Flowers of Japan is an exhibition the Garden has been working on for almost a decade, starting with a partnership with Shinjuku Goyen National Garden in Tokyo. A chrysanthemum specialist there, Kodai Nakazawa, agreed to come to New York and assist the Garden in replicating the techniques he had been studying since high school. In the years since, Kodai has put together a team of dedicated horticulturists that spend almost the entire year working with these special plants.
The results can be seen by anyone who visits the show and experiences the majesty of this unique plant in a setting unseen anywhere this side of the Pacific. Check the video below to get a sense of what you missing out on.