How Do They Do That?: Ogiku, or 'Triple Stem' Kiku
Posted in Behind the Scenes, Exhibitions on October 5 2011, by Ann Rafalko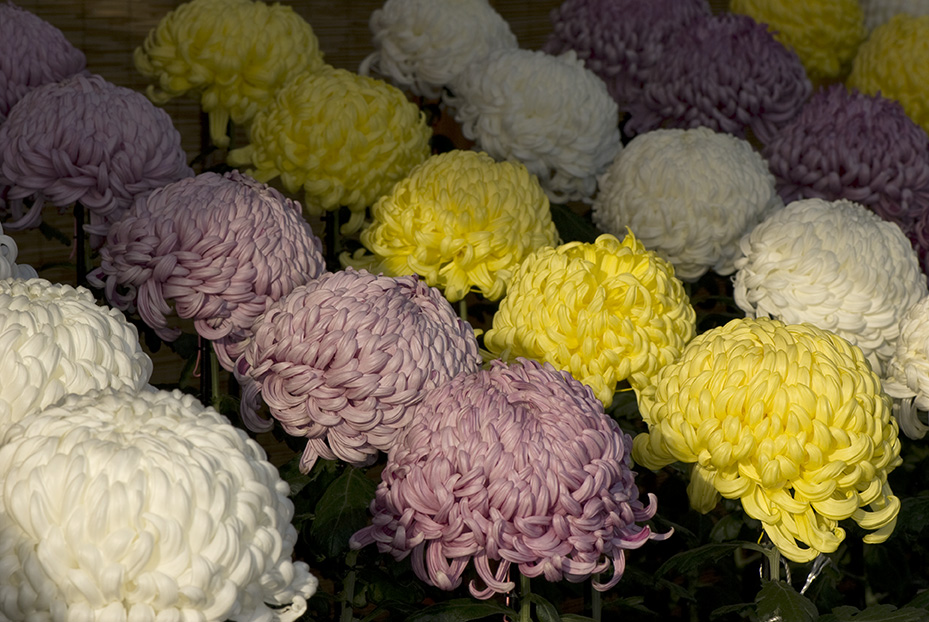 After more than a week of counting down the classes and styles of kiku, these beautiful flower displays are back in the Enid A. Haupt Conservatory as part of Fall Flowers of Japan.
Come visit these extraordinary flowers, just 20-minutes from Grand Central to Botanical Garden station on Metro North's Harlem Line. While you're here, you should also visit the sublimely beautiful Peggy Rockefeller Rose Garden, indulge in a delicious lunch at the Garden Cafe, wander along the Bronx River in New York City's largest remaining plot of old-growth forest; the 50-acre Thain Family Forest, and marvel at the beautiful fall light as it plays off the Garden's 250-acres. The Garden is never the same two days in a row, so come spend a day in one of the world's greatest urban gardens, The New York Botanical Garden!
The plants in the ogiku, or 'Triple Stem,' display are trained to produce one enormous blossom atop each tall stem.
[Not a valid template]
Previous Days in the Kiku Countdown:
Kiku Classification: Spider, Brush and Thistle, and Unusual
How Do They Do That?: Shino-Tsukuri or 'Driving Rain'
Kiku Classification: Anemone, Spoon, and Quill
How Do They Do That?: Kengai or 'Cascade'
Kiku Classification: Decorative, Intermediate Incurve, Pompom, and Single and Semi-Doubles
How Do They Do That?: Ozukuri or 'Thousand Bloom'
Kiku Classification: Irregular Incurve, Reflex, and Regular Incurve