Great Gruesome Gourds – More Spooky Carvings to Come!
Posted in Around the Garden, Exhibitions, Video on October 26 2011, by Rustin Dwyer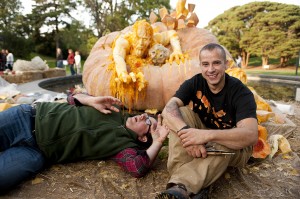 We're still basking the freakish glow of superstar sculptor Ray Villafane's (on the right in this photo) wild zombie sculpture he constructed at the Garden using two of the world's largest pumpkins. But by no means are the creepy carvings over with! This weekend will feature the supremely talented artist Michael Natiello (under the zombie's hand)–the brains behind the spectacular Great Jack 'O Lantern Blaze as well as our Haunted Pumpkin Garden here in the Children's Adventure Garden.
Weather permitting however, Villafane's pumpkin creation will only be on display for as long at it stays presentable and also as long as we can keep the wily Bronx wildlife from having their own pumpkin feasts.
For those of you who couldn't be here last weekend, we put together a short video of Ray in his own words describing his process. All the gory, gourdy goodness is below!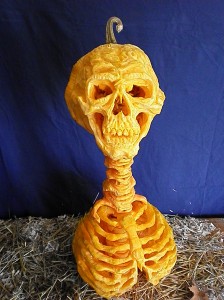 To give a taste of what you might be missing this weekend, above is a short interview we did last year with Natiello. While last year's motifs were magical and whimsical — be warned — this year the Garden is taking a much "spookier" approach to the Fall holidays (if Villafane's frightening sculpture didn't tip you off to that fact already). Natiello knows he's got quite a big act to follow, but he's got some Halloween tricks of his own. He's going to turn Leonard Urena's 1,704.5 lb. pumpkin into a spooky spider creation that's sure to please. He says he's drawing some inspiration from a previous skeleton pumpkin project (check out the photo to give you an idea of what to expect).