NYBG Confidential: Florist Emily Thompson, Fresh from The White House
Posted in Adult Education, Programs and Events on December 28 2011, by Joyce Newman
Joyce H. Newman is the editor of Consumer Reports  GreenerChoices.org, and has been a Garden Tour Guide with The New York Botanical Garden for the past six years.
---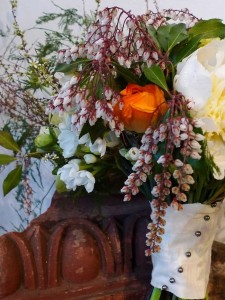 Fresh off her exciting holiday decor project for the First Family, floral designer Emily Thompson will be making time in 2012 to stop by The New York Botanical Garden and share some of her creative talents.
Thompson's work is best known for its sculptural and naturalistic elements as inspired by her native Vermont. Her clients are not only among the internationally famous, such as the Obamas, but include her local Brooklyn friends and restaurants as well. Having studied at the Pennsylvania Academy of Fine Arts and earned an MFA in sculpture at UCLA, Thompson eventually moved to New York, where she set up her shop–Emily Thompson Flowers–on Jay Street in Brooklyn's DUMBO district, one of the city's premier art havens.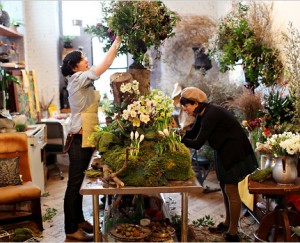 Thompson got her start as a flower arranger for a family wedding, and has come a long way since, with a growing list of impressive projects. Yet she was shocked when she got a call from Laura Dowling, the White House florist, asking her to create the holiday decorations for the large, public East Room and the more private Palm Room. "I just about fell over," Emily exclaimed in a recent interview with Vermont Public Radio.
Thompson says that her only guideline from Michelle Obama was "to bring the outside in." And so she did. For the Palm Room the concept was a peaceful rock garden, using mosses and bulbs that will continue to bloom in the coming months. Thompson and her husband loaded a pick-up truck, carrying huge rocks from her father's Vermont property to Washington, D.C.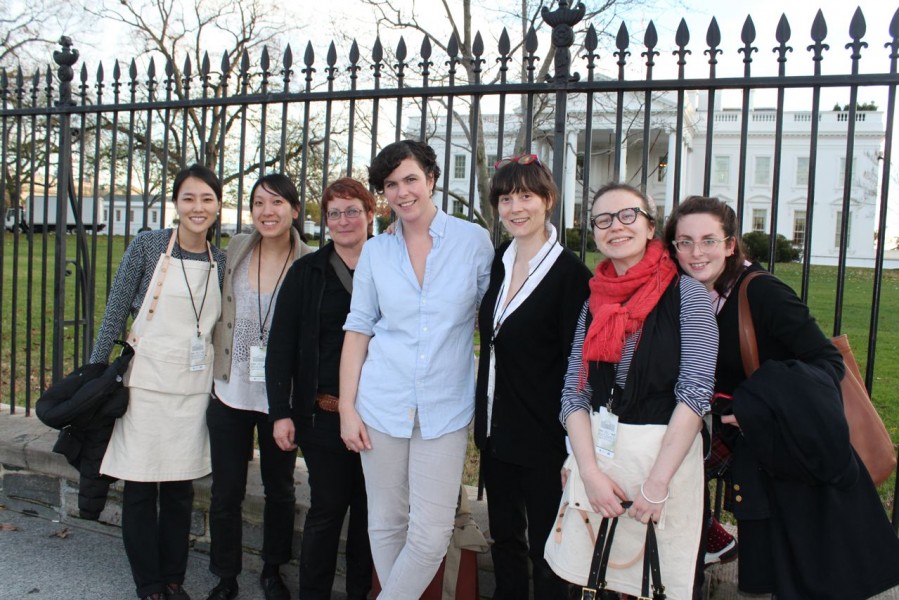 For the ornate East Room, often the backdrop for presidential press conferences, Thompson hung huge garlands shaped like eagle wings around the windows. They were woven from long, thin pine boughs and rose from floor to ceiling.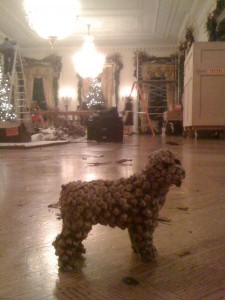 "… We added triple-thick cedar to build these up into wings, and then magnolia, and then copper metallic leaves," Emily explained during her radio interview. "I really wanted to kind of pull from the materials of the house, too. So using ancient kinds of ores and stone was a big part of my designs for the room."
Thompson's crew spent a week installing all of the floral arrangements, which were completed in time for the first lady's preview at a press conference in the East Room.
As we move into 2012, stay tuned to Plant Talk for more information on Emily Thompson's upcoming class schedule here at the NYBG. In the meantime, be sure to check out our adult education offerings for workshop opportunities already scheduled in the coming months.
And if the thought of breaking into floral design as a newbie is intimidating, or you're just not sure what to expect, feel free to take a look at some of our past coverage on Garden workshops; whether you're learning the ancient Japanese art of Ikebana or just looking to pick up a few pointers on making your own holiday wreaths, there's something here for you.
---
Photos courtesy of Emily Thompson Flowers.