Look Up: The Green Walls of Patrick Blanc
Posted in Exhibitions, People, The Orchid Show on February 24 2012, by Karen Daubmann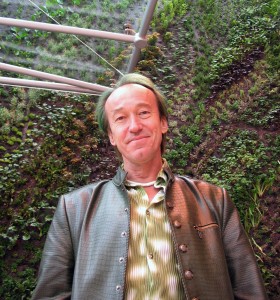 It won't be long now. Our Caribbean Garden is moving right along, and already preparations have begun for our next exhibition. It's not a haphazard process that brings us to these moments, either–everything that springs to life in our Conservatory and elsewhere is the product of months (if not years) of careful planning. In the case of this year's Orchid Show (our tenth!), one man's lifelong passion will make its mark on the NYBG.
"Eccentric" comes to mind when considering Patrick Blanc. What other adjective sticks so well? Clover-green hair and patent emerald shoes, a matching Aloha shirt and vintage jacket; Patrick's a walking canvas for his profession. As a renowned botanist, plant hunter, and designer, Blanc makes his mark on the world of landscape design with grandiose ideas of verticality and hanging foliage–not just from baskets or trellises but from the very walls themselves. Gravity is no constraint worth considering for this worldly creative.

Blanc comes to New York from the French National Centre for Scientific Research to mold simple plant life into breathtaking art. His efforts in jungles across the globe have brought the esoteric beauty of subtropical plants out of the bush and into city centers, museums, fashion shows and spaces throughout the urban sprawl, covering otherwise barren planes with growing tapestries.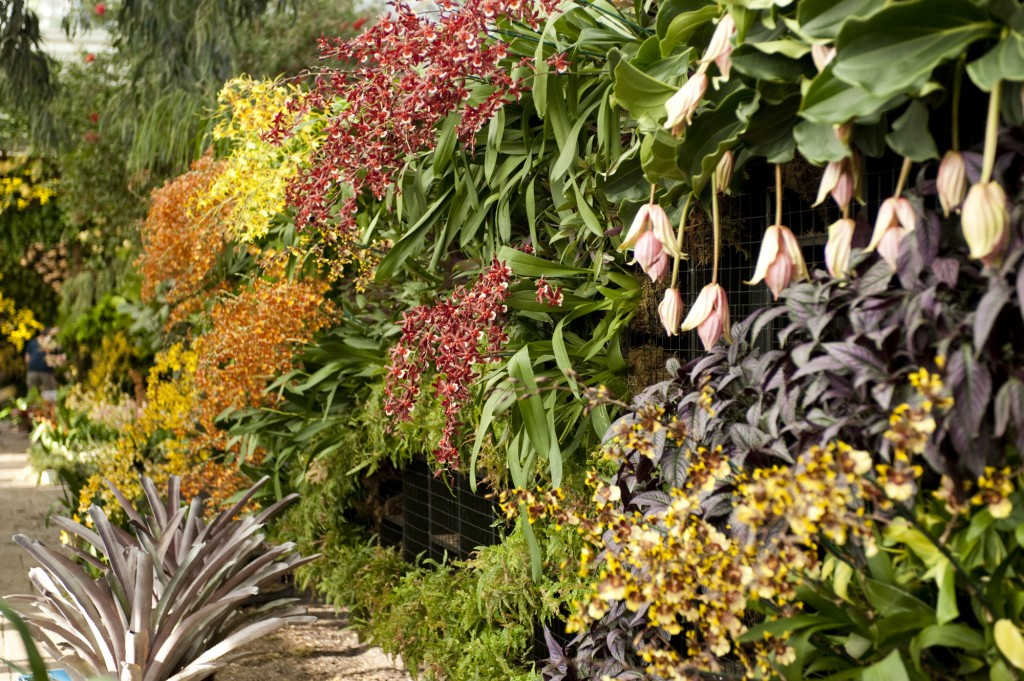 The living "green wall" is a concept produced and refined by Patrick, and as with the man, it's an eccentric work. Where a green façade would otherwise be impossible with anything beside ivies and similar climbing vines, the wall of foliage uses various types of specially-designed growing mediums (depending on the design) to offer the ideal grounding for all manner of plants. More often than not, the garden soil is left at home:
"The soil is merely nothing more than a mechanical support. Only water and the many minerals dissolved in it are essential to plants, together with light and carbon dioxide to conduct photosynthesis." — Blanc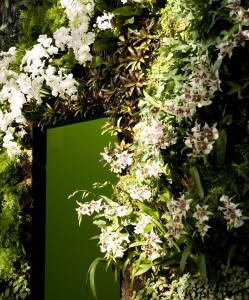 But far from being limited to superficial eye candy, Blanc's inspirational concept has pushed the boundaries of environmental practicality as well. With the right arrangement, he has shown that a surface covered entirely by plants can create natural thermal insulation for buildings, and can be used as an efficient air filter to trap, break down, and absorb pollution and microorganisms. I'm not doing my job all that well if I have to belabor the double meaning of "green wall."
On March 3, the doors of the Enid A. Haupt Conservatory will be thrown open to reveal a theater of color and depth, greeting visitors with orchids of every shade, shape, and altitude in the midst of green planes of exotic foliage. Don't forget to look up–Blanc's stylized gardens are best experienced from every angle.
---
The Orchid Show runs between March 3 and April 22. Click here to reserve tickets online.
Patrick Blanc's likeness courtesy of Wikimedia Commons.