Neotropical Blueberries
Posted in Around the Garden, The Orchid Show on March 8 2012, by Matt Newman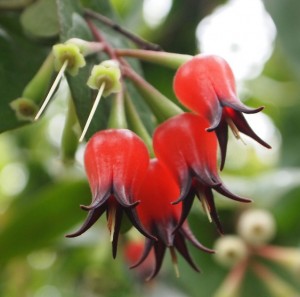 Far south in the Pine Barrens of New Jersey, where the sandy flats aren't struck through with creeks, you'll find parcels of land dedicated to row upon row of scraggly bush. It's the antithesis of a tropical landscape; like large-scale agriculture in the midwest, the skies over these tended fields are big and empty, with the occasional conifer contorting itself under and around a telephone wire near the bordering dirt roads. The pine woods sit further off.
In the winter it's a vacant space save for the blueberry bushes. But these berries have a relative of a more tropical disposition. Perhaps not down in southern Jersey, but here in the Enid A. Haupt Conservatory, certainly.

During our Caribbean Garden photo contest, a small gathering of brazenly-colored plant species–all of them relatives–drew the attention of nearly every photographer competing. Week after week, pictures of these almost cartoonish flowers would flood our Flickr feed in tones of fuchsia, honeydew green, and grape-juice purple, pinned with hopes of taking the prize. But as of right now there isn't much immediate information on hand in the Conservatory to help our shutterbugs understand just what it is they're snapping.
I sought out the input of Dr. Paola Pedraza-Peñalosa, our resident expert, and came up with "neotropical Ericaceae," a regional grouping of a plant family boasting over 4,000 members worldwide, many of which are actually toxic. When it comes to the few particular species in question, their importance in the plant world–not to mention the realm of health food–is an incipient discovery. It was just last year that Dr. Pedraza-Peñalosa and her colleague, biologist Edward Kennelly of Lehman College in the Bronx, made the public spotlight when news of their work on these members of the Ericaceae family got around. If not for the direct correlation between these plants and the small, blue summer indulgences we stuff into our pies, the lay public might have skipped right over the story.
Certain members of the neotropical Ericaceae are essentially blueberries. Tropical blueberries, and in a form somewhat removed from what you're used to, but blueberries nonetheless. And where the cultivated highbush variety of the eastern United States may be a staple in healthy eating guidelines, it's got nothing on its equatorial cousin. However, it is important to note at this point that–as I said–many Ericaceae can be toxic. And as with wild berries here in the U.S., what looks delicious and safe to eat may be a rather poisonous imposter. Grazing off the cuff is always ill-advised.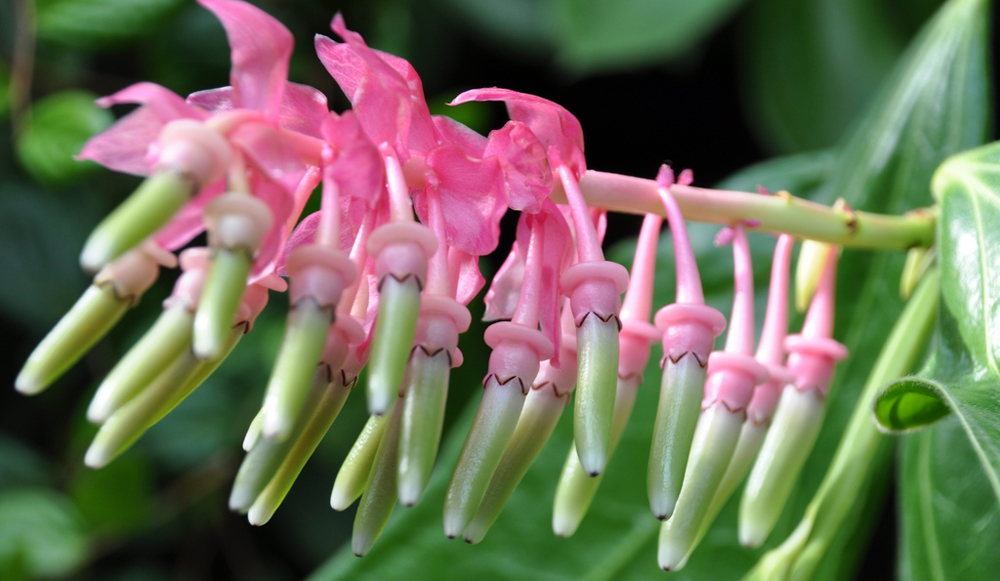 As buzzwords go, "superfood" is becoming a popular term. It's been tossed around over the last few years as the equally buzzworthy emergence of the antioxidant trend makes its rounds in Western vocabulary. In a time when fighting back against the tide of processed edibles is big business, exotic fruits are being put under increased scrutiny for their nutritional value (to make up for the void of vitamins and minerals most of us experience otherwise). And the neotropical blueberry does its job well; far better than the berries you find at local supermarkets, packaged away on shelves in the produce department.
After studying the flamboyant fruits of the neotropical Ericaceae grown in the Conservatory and the NYBG's Nolen Greenhouses, Dr. Pedraza-Peñalosa and Dr. Kennelly found, quite surprisingly, that the concentration of antioxidants in certain tropical varieties is up to four times higher than that found in the highbush blueberries of eastern North America. That's significant for something which could be important in combating cancer, heart disease, and other ailments so common in today's population. In this case, the antioxidants are potent enough that Dr. Kennelly has dubbed neotropical blueberries "extreme superfruits."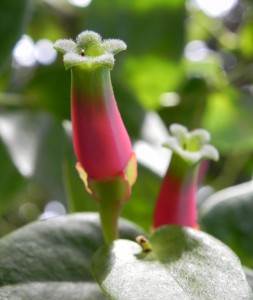 Not that the U.S. produce industry has caught on–yet. You still can't find these colorful berries for sale outside the local markets of South America. Getting your hands on them means venturing far afield from metropolitan New York, to countries like Venezuela, Peru, Ecuador and Columbia, where many of the species thrive in moist, montane habitats up to 3000 meters above sea level. The threatened cloud forests of the Andes are a particular favorite for the varieties such as Cavendishia grandifolia and Anthopterus wardii, two of the species studied extensively by Pedraza-Peñalosa and Kennelly.
For now, the blueberries in the Conservatory may be the only ones you spot "in the wild." Not that you should try to sample them–some species in the Ericaceae family can be toxic. But in due course, photographs of these candy-colored berries could become slightly less exotic, especially when you begin seeing them peek out from the label of every juice blend in the grocery store cold case. After all, it was only a short time ago that "acai" was an alien term to most.
The neotropical blueberries are flourishing in our Conservatory right now, adding even more beatific color to the mosaic created by the Orchid Show. Be sure to keep your eyes open for their bell-like blossoms when you visit.
---
For more photos from our Caribbean Garden photography contest, see the Flickr feeds of our generous contributors, Meri, Ray, and Enrie.