An Early Spring Tour with President Gregory Long
Posted in Around the Garden, The Orchid Show, Video on March 20 2012, by Matt Newman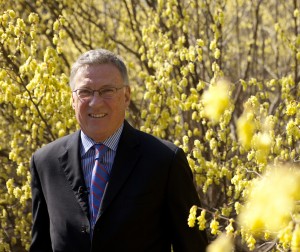 The 10th annual Orchid Show may be the most alluring exhibition in the northeast, but the vivid, climbing blooms under the glass of the Enid A. Haupt Conservatory are surely complemented by the stunning landscape just beyond the doors. Arriving weeks earlier than expected, a new season is sweeping across The New York Botanical Garden, waking the sublime flowers and foliage that make spring in the Bronx the most memorable time to visit!
Join NYBG President Gregory Long as he tours the grounds, stopping in to see the jewel-like miniature orchids and tropical jade vines of the Conservatory before setting out across a Garden in colorful transformation. You won't believe how quickly our outdoor collections have burst into life with the first hints of warm weather. From the soft white petals of the Kobus magnolia to the delightful fragrances of the Rock Garden's petite blossoms, The New York Botanical Garden's season of renewal is already well underway.
The Garden's many diverse landscapes will only grow more dazzling as we move further into this early spring. If you haven't already picked up your tickets for the Orchid Show, be sure to reserve them soon. And when the day comes, feel free to explore! The beauty of New York City is here.