Posted in Around the Garden, Gardens and Collections, Learning Experiences on April 8 2012, by Matt Newman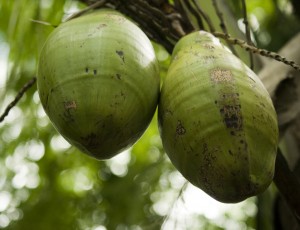 Under the glass of the Enid A. Haupt Conservatory's Palm House grows an iconic tree, commonplace to most tourists of the tropics. In the wild, the fruit dangles in lumpy clusters from a familiar silhouette, bending like an elbow toward the sea, a thin pole with a spray of long green leaves at the peak. Visit any beachside farmer's market in the islands of the Caribbean and you may see the ubiquitous coconut held out in the hands of stall hawkers, a straw stuck through a bored-out husk for passersby to taste.
But beyond the frosty lip of a piña colada glass, the coconut earns a mixed reputation in the culinary circuit. It clutters cake frosting, makes an appearance in the occasional creme pie, lurks in the most innocuous-looking candy bars–yet how many people do you know who go gaga for the pulpy flesh of this tropical mainstay? I defer to a readily available explanation for the widespread dislike: "It's not the taste, it's the consistency." And with that, I will never again have an opportunity to quote Zombieland, much less Woody Harrelson.