Posted in Exhibitions, Gardening Tips on April 9 2012, by Matt Newman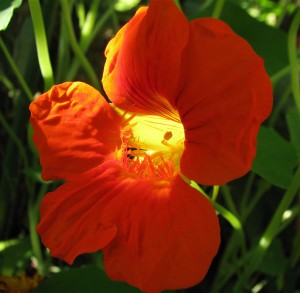 Your vanity garden is scarcely the first place you look for salad toppings. Instead, most turn to the leafy standbys–lettuce, cabbage, kale, spinach. Throw in a few slices of zucchini or a handful of cherry tomatoes, maybe sprinkle the bowl with a few herbs to push the salad toward "exotic." But what if I told you that eating the florid, elegant blooms that might otherwise end up in a vase is as natural as dousing your Caesar with dressing?
I'm not saying you should go right out and make a trial-and-error buffet of your window planter. There are only certain flowers that you would have any desire to eat, as many are poisonous or taste beyond awful. And that's all the disclaimer I can give: don't eat anything unless it is properly identified.