Posted in Around the Garden, Learning Experiences on April 12 2012, by Daniel Atha
Daniel Atha is an Associate Editor of NYBG's systemic botany journal, Brittonia, and a researcher specializing in floristics, taxonomy, and economic botany. He has taught classes in anatomy and systemics at the Garden's School of Professional Horticulture and is currently working on a project to develop identifying DNA barcodes for plants of the Northeastern United States.
---
"I knew a man, a common farmer, the father of five sons,
And in them the fathers of sons, and in them the fathers of sons."
–Walt Whitman, "I Sing the Body Electric," from Leaves of Grass, 1855
Urtica dioica L. (stinging nettle)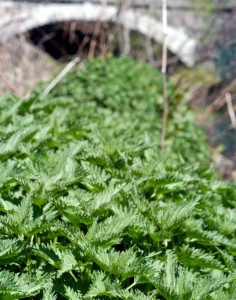 If told there was a substance promising that each of our five sons, and each of their five sons would grow up to be "massive, clean, tan-faced, handsome," would we approach that substance with caution, treating it with respect and gratitude? Or would we rush out, blindly gathering as much as we could? Well… Mother Nature must have seen us coming because, while she created just such material, she cleverly devised a way to ensure we respect it.
The "substance" of course is stinging nettle. And of all the matter on earth, nettles come closest to providing our every need in one convenient package. Nettles help us grow strong and they keep us healthy and happy for life. Along the way they feed us, clothe us, transport us, soothe our pains and they even make us beautiful. Want more? They give it, body and soul, sacrificing all for the next generation.