Posted in Around the Garden, Programs and Events on April 24 2012, by Sonia Uyterhoeven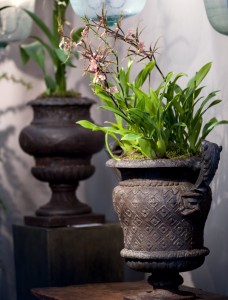 This year is the 20th Anniversary of our Antique Garden Furniture Show. In honor of its celebration, I will review some of the basics for maintaining antique garden ornaments, but my best suggestion is that you stop by the show from April 26 through 28 and talk to the experts. We will have over 30 antique dealers who specialize in garden ornaments, catering to a wide range of tastes and budgets.
In anticipation of the show, I have been perusing the library's collection of books, finding inspiration not only in the traditional tomes filled with marble nymphs and cast iron urns, but from modern design books that suggest repurposing local material.
I have started to construct my dream garden piece by piece. One item that is at the top of my wish list is a 19th century terra cotta oil jar from Italy. It was traditionally used to hold vats of olive oil, but in its modern rendition would make a wonderful focal point in an herbaceous border.