Posted in Around the Garden on April 27 2012, by Matt Newman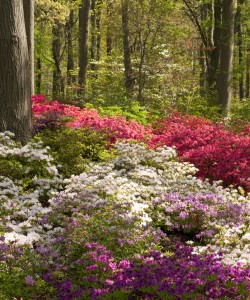 The sun is high, the tulips are flirtatious, and the workday already has one foot out the door. Tomorrow opens up a spree of exciting events at the NYBG as we work our way toward the beginning of Monet's Garden. More importantly, we're springing off our announcement of the Rock Garden's inclusion in this year's Partners in Preservation competition. We need your help to make this happen!
We're encouraging everyone to stop by the Rock Garden at the heart of the NYBG when they come for a weekend visit. You'll understand why I call it a zen experience. And once you've walked along the gently sloped gravel paths and looked up at the reach of the trees overhead, I think you'll also come to understand what makes this Garden icon worth your time. After seeing the Rock Garden, think about throwing your vote in the hat for The New York Botanical Garden as we strive for the privilege of restoring this piece of Nature's Showplace.