Where the Wild Things Are
Posted in Around the Garden on August 8 2012, by Matt Newman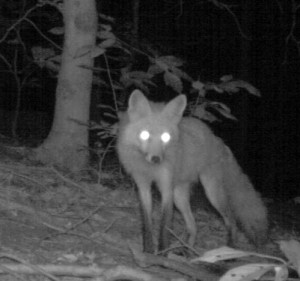 When you're home to more than 250 acres of flora, you don't have to stray far to uncover a virtual menagerie of fauna within it. Cormorants and wood ducks draw zig-zags in the duckweed of Twin Lakes, while Red-tailed Hawks hunt skinks and black squirrels from far overhead. There's even a cranky snapping turtle or two. But for every rabbit or warbler out to make itself seen in the NYBG, there's another species living out its life away from our cameras! As Director of the Forest, Jessica A. Schuler has turned some of her focus toward the elusive creatures living in our woodland.
Through a collaboration with Jason Munshi-South of CUNY Baruch College and Mark Weckel of Mianus River Gorge Preserve, Jessica is doing her part to help the pair document the many animals living throughout the city and Westchester county, as well as the effects of the urban environment on evolutionary biology. In the case of the NYBG, this is done by arranging four motion-activated, all-weather cameras in locations throughout the Garden's 50-acre Forest, ready to capture the movements of any and all woodland wanderers that might amble by. And after only a month on site, capture they did! Calibrated to go off at even the slightest hint of a passing animal, these cameras accurately snapped shots of several familiar species lurking in our woods.


When anything wanders into view of the lens, the motion-capture camera quickly takes a stream of five shots, with the goal of recording as much as possible before the animal strolls (or flaps) out of view. But, as you can see from the above photos, some of our visitors weren't in much of a hurry. In the case of that owl, this was a rare chance to ham it up without anyone around to ruin the moment. It certainly says something about the innate "dignity" of these majestic raptors, doesn't it?
According to Jessica, we plan to monitor the woods for some time to come, perhaps in hopes of seeing something none of us could have expected to find living in New York City's largest old-growth forest. You can be sure I'll check in later to see if anything new has crept into the spotlight since June's pictures!