Kerlly Bernabé: Building the Bridge
Posted in People on August 2 2012, by Matt Newman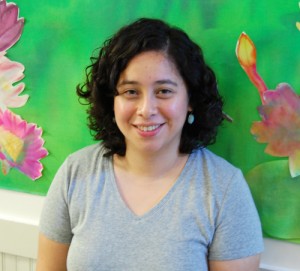 When Kerlly Bernabé first arrived in the late '90s, The New York Botanical Garden served as more of a "look but don't touch" establishment. The Everett Children's Adventure Garden, far from the hub of children's activities it is today, was little more than a blueprint doodle. But it was on that same day, with the appearance of our first Explainers, that all of this began to shift for the better.
Kerlly's four years as one of the original Garden Explainers resulted in the founding of one of the most significant volunteer programs of any cultural institution in New York City. Today, these high school students–aged 14 to 17–work daily to make learning more than a chore, engaging kids and families throughout the Garden in hands-on activities and open exploration. In helping to build this thriving program, each Explainer leaves with not only a newfound knowledge of nature, but a sound jumping-off point for opportunities in their education and careers. Perhaps more importantly, they leave with a sense of confidence and responsibility.

It's been years since Kerlly first donned the green shirt, but even as a busy graduate student, she's still generous enough with her time to show today's Explainers how it's done. Her brief return sees her facilitating one of our newest summer courses, MasterCard's Priceless Budding Masters. But before she once more set off into the business of education, I had an opportunity to sit down with Kerlly and discuss the early days of the Explainers–the drive behind the program's creation, and the obstacles to kicking off such an unprecedented project within our century-old institution.
To say that the Explainers had humble beginnings is something of an understatement.
---
How did you come to volunteer at the Garden, and what drew you to the program?
It was around 1996; I was in junior high. I first connected with the NYBG through the Math/Science Institute, which back in the mid-'90s was a new program being piloted to help inner-city kids test into specialized high schools, because African-American and Latino kids–even public school students in general–weren't being well-represented in these science-focused institutions.
The program was launched by Mr. Bruce Ravage, who had this vision for reducing the education gap he saw here in the Bronx. I think that was around the sixth or seventh grade. Mr. Ravage believed so much in our potential, and he felt that if there were more bridges created for kids like us, it would keep us motivated and on the path to do more in science and math. So he spoke with people here at the Garden in around 1997. At that time the Everett Children's Adventure Garden didn't even exist, and there wasn't as much going on to engage people's curiosity as to the beauty of the Garden.
Bruce struck up a couple of conversations with the Garden's education department and said, "Hey, you know, I have a group of highly-motivated high school students here from the Bronx; is there any chance you have a program they could help you with?" He built the first bridge. Along with Master and Senior Explainers in higher grades, many of which came from the Bronx High School of Sciences, this is how the Explainer internship program came about.

What were the challenges like for the first group of Explainers?
It was myself and four or five other students from the Math/Science program, a tight-knit group, and we were set up with these little science carts. One of them focused on plants, flowers, and the like. Another dealt with the wooded areas of the Garden, featuring different trees. They all had different themes. So in a way we just sort of jumped in head first, a bunch of science students that knew the basic terms but saw the program as an opportunity to expand our curiosity about nature and this amazing resource in the Bronx. The Garden was something we hadn't found a chance to appreciate before then.
It took a lot of tenacity to head out with those five little carts and convince people to talk to us. But after a while, it became clear that most visitors were happy to see us, to stumble across us with an honest desire to learn. The greater challenge lay in the fact that many of the Garden's visitors were botanical researchers themselves, and they clearly knew far more than we did. It was intimidating for high school students. "So how much do you really know?" But, in the end, they were very gracious. The experts shared so much of their knowledge–intricate subjects, tree species, plant physiology–so many things we weren't aware of when we first arrived. It kept us on our toes, while working with the public taught us to be sensitive to perceptions and different learning processes. It was such a social experience.
How did the Explainer program influence your growth as a person, or your education and career goals?
As my first real job, it was one of the best things to happen to me in terms of showing me what responsibility meant, especially at such a young age. I was never a rebellious teenager, but being an Explainer showed me how to discipline myself, and to build on my love of science and the ongoing learning process that comes with it.
After leaving the Explainers, I went on to become a biology major in college while also studying pre-med. I'm now completing a graduate program with Boston University's School of Public Health. For a junior high student to be talking about any subject with authority–it's something to be proud of. I learned so much about how to build my communication skills with people of any age or level of knowledge. And the Explainer program helped me to overcome a lot of the common insecurities that kids at that age generally deal with. That confidence has gone a long way.

What's the most important thing you took away from your time as a Garden Explainer?
We worked with talented docents and retired teachers, each with a wealth of knowledge far beyond what we entered the program with. But there was an informal sort of peer and mentor relationship between all of us. For them, I think it was wonderful to have protégés of a sort, impressionable young minds that were simply curious about science. For us, they served as role models–through their careers, or their personalities–and we had their expertise to draw from when interacting with the public down the line. We held onto a lot of what they taught us.
When you're a teenager, you think you know everything. The Explainer experience definitely kept us humble. It made us aware that we didn't have all the answers. It showed us how you could not only be a follower, but hopefully a leader later on.
Do you have a particular memory of being an Explainer that sticks out above all others?
Karl Brummert–he was here at the Garden when we started the program. He was actually one of the first people Bruce Ravage spoke to, along with Aija Sears, to get the Explainer program moving. Karl had this great love of sharing what he had learned, and with us, it was often ornithological. It was something of a running joke that he would pick the strangest times to get excited about birds.
Often it would be the middle of winter, and we'd be trekking through the snow. You have to imagine this group of inner city kids who've never even been camping, and it's like, "Why are we even out here in the middle of winter when we could be inside, drinking hot chocolate?" All of a sudden Karl starts talking about the birds in the area while we're shivering behind him. He'd hear the birds' calls and start talking excitedly about the local avian population. We were miserable. But, for a moment, we'd just look at each other as if to say, "No, this is stuff we're going to need to know later on." We weren't even being graded, but we knew that this was part of our learning experience, and that we should make the best of it.
Karl had a very animated, accessible teaching method that spoke to his abilities and passions. It was walking away with this experience that really sticks in my mind. Of having these individuals caring enough to invest in us as teenagers.

Finally, do you have any words of wisdom for current or future Explainers?
Enjoy the time that you have in the program. It's an opportunity to meet like-minded peers and build lasting relationships with them. For me, the friends I made through the Explainer program have been a support system even years later. For you, that might mean friends to fall back on when you're struggling through university or having a rough time. But it's wonderful to be around people of a like mind, with similar goals and motivations in the sciences.
It's the same with the people who are running the Explainer program. Get to know them. They're here because they really want to be here, and they want to see each intern flourish in his or her own way, whether the aspiration is academic, artistic, or whatever else interests you. They have so much to impart, even if you don't notice at first; later on, you might be surprised by how far their advice carries you. So if you really want to be here, try to make the most of your time.