The Garden Anthology
Posted in Monet's Garden on September 12 2012, by Matt Newman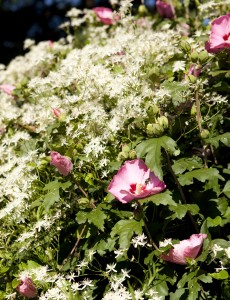 Long before Lost Generation icons like Hemingway and Stein held court with Joyce and Fitzgerald, another cadre of artists called Paris home: "Les Mardistes," named for the Tuesdays (in French: mardi) on which they often met. Imagine stepping into a parlor with Stéphane Mallarmé, Paul Verlaine, W.B. Yeats, Oscar Wilde, and none other than the Impressionist himself, Claude Monet–you get the idea. When it rains, it pours, and late 19th-century France saw a veritable flood of the creative spirit. At the NYBG, we're hoping you'll join us in recreating it through The Garden Anthology, and all poets are welcome!
More than an homage to Giverny or an exhibition of Monet's art, Monet's Garden is a seasonal celebration of that prolific muse. No static thing, it moved fluidly between the arts, touching the Impressionist painter just as it inspired the Symbolist poets. In the Perennial Garden's Poetry Walk, you can see the work of Monet's lyrical forebears and contemporaries proudly displayed among our summer blooms. Better yet, the Salon Series regales visitors with the words of the French writers–Verlaine, Mallarmé, Baudelaire, Rimbaud–as recited by some of the finest New York poets to have studied them.

But what if an afternoon spent reflecting on conifers leaves you dreaming in haikus, or a rose calls up the ghost of an elegy? We want you to share your work with us! Through The Garden Anthology, we're collecting the verse of our visitors for all to enjoy, and your submission matters. Simply visit our anthology page through the end of Monet's Garden to view the nature-inspired poetry of fellow visitors, or submit a piece you've penned yourself. Whether your words were influenced by a day at the NYBG, a walk in a city park, or an afternoon weeding in your home garden, we want to see them. You can even tweet your 140-character poems to us with #nybgpoem. But above all, don't let your muse go ignored–there's a bit of poetry in each of us, whether it takes digging or not!
---
Monet's Garden continues with seasonally-changing flower displays through October 31. The next and final Salon Series readings are scheduled to take place on October 20. See the official exhibition page for more information.