Mulch Monster: A Diamond Z at the NYBG
Posted in Around the Garden, Video on October 3 2012, by Matt Newman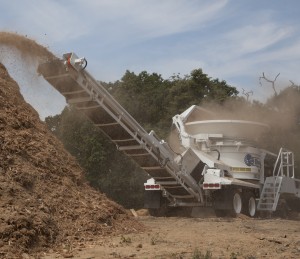 What's as big as a school bus, full of hammers, and can chew up a log the size of a Mini Cooper in just a few seconds? That would be The New York Botanical Garden's new Diamond Z tub grinder, the latest addition to our collection of groundskeeping machinery and easily the most impressive.
Tub grinders in this class are essentially glorified mulchers, using rapidly swinging "hammers" to break down organic material into an easy-to-manage pulp. Think of the trailer-sized woodchipper the average home landscaping company uses, then scale that up to industrial proportions, and you have the Diamond Z. It'll handily take down a bundle of twigs and weeds, but its real talent is in gobbling up enormous segments of tree trunk–up to 30 tons of them per hour–and spitting out useable mulch or compost. After the past year's fluke storms left us facing damaged trees across the Garden, this was exactly what we needed to tidy up our wood piles.

Thanks to a generous grant from the office of Bronx Borough President Ruben Diaz, Jr., we were able to replace the 20-year-old tub grinder the Garden had relied on since 1992; it was prone to breakdowns and slowed our clean-up when speed was an absolute necessity. Now, we're chomping through literal tons of compostable material like a giant knife through tree-sized butter. And each pound of compost or mulch that we create helps the Garden not only to recycle what is grown here, but to be more self sufficient in how we tend to our landscape; it will be reused in collections around the NYBG, inspiring new growth for years to come.
You may not be able to see the tub grinder in person, but the above video should push the point across: we're getting things done at the NYBG, and the Bronx is chipping in!