Growing Dwarf Blueberries and Raspberries in a Container
Posted in Gardening Tips on January 8 2013, by Sonia Uyterhoeven
Sonia Uyterhoeven is the NYBG's Gardener for Public Education.
---
Last week I introduced you to a few new dwarf blueberry and raspberry cultivars that are on the market this year: blueberry Vaccinium corymbosum 'Jelly Bean', blueberry Vaccinium corymbosum 'Peach Sorbet', and raspberry Rubus idaeus 'Raspberry Shortcake'. This week I would like to tell you more about Dave Brazelton, the hybridizer behind these plants, and share a few pointers for growing dwarf berries of your own.
During a summer spent working on his cousin's blueberry farm in New Hampshire, Dave fell in love with the business. He excelled in the field and was the first overzealous employee to hand-harvest more than 1,000 pounds of berries in one day. Years later, when he was married and working as a veterinary technician, Dave and his wife Barbara decided to realize their dreams and buy a blueberry farm and nursery. They found a 25-acre blueberry farm in Lowell, Oregon, that they purchased in 1978.
Since then, the farm has grown from a retail operation and a landscaping business to a wholesale nursery, with one of the top blueberry breeding programs in the industry.

For years, part of the operation included harvesting fresh blueberries and selling them in town. However, the Brazeltons' operation was joined by Gregg and Becky Vollstedt in the 1980s, and the two couples worked in tandem to take charge of nursery production, sales, and all aspects of the growing business. The family business is now into its second generation, being led by the Brazeltons' son, daughter, and son-in-law. Dave has kept his position at the helm and Gregg is now semi-retired on the Board.
Throughout the early years, Dave assiduously collected data on the blueberries he was growing and set about learning all the latest developments in the field. His reputation in the industry grew, and he started partnering in the US and internationally with university- and industry-based breeding programs.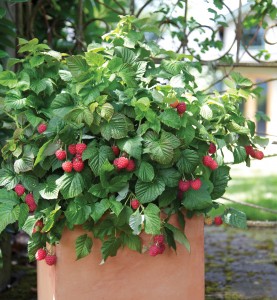 The Brazeltons have been evaluating blueberries since the 1990s, offering a wide variety of blueberries for both southern and northern climates. While blueberry growers have focused largely on berry production and ease of harvest for the food industry, one of the Brazeltons' goals has been to combine great fruit with an attractive landscape plant for homeowners. The new introductions are part of this effort; they will dress up any container or make a nice low-growing hedge for your garden.
But what is the best way to grow blueberries? Blueberries, like other Ericaceous plants, need acidic soil to thrive–generally with a pH of 4.5 to 5.0. Most of the soils in the Northeast are acidic, but adding some peat moss or composted bark (generally made of pine) to the soil is an easy way to increase the acidity. If you are growing your blueberries in a container, look for an acidic potting mix or one that is recommended for rhododendrons and azaleas. Some combination of pine bark or composted bark, peat moss and sand works well. Coffee grounds are also a great acidifier and you can occasionally incorporate a used batch into the soil.
Blueberries have a shallow, fibrous root system, which means that they are not drought tolerant and should not be left to dry out. To that end, growing them in a container is a great way to regulate water. The plants will benefit from 2+ inches of mulch, whether in a container or in the ground, but make sure you don't mulch up to the base of the plant; keep your mulch around the root system.
It is best to grow your blueberries in full sun–they will be more prolific–but I have also grown them in part shade and they do perfectly fine. Fertilize your plants in spring with a fertilizer made specifically for acid-loving plants, such as cottonseed meal or Holly Tone®. Prune your blueberries in early spring, removing older and dead wood, along with low-growing branches that are growing sideways and not up. All in all, you should remove about a third or more of the growth. This ensures that the blueberry doesn't overproduce with small berries.
Raspberries, in turn, like neutral soils. Full sun is important, as is a well-drained soil with good organic content. A balanced fertilizer should be used in the spring, when raspberries produce new canes. These canes will need to go through a winter dormancy period before they fruit. After they have finished fruiting in the summer, prune out the old canes and leave the new ones for the following year's harvest.

With a little patience and your green thumb at work, you should be able to find the makings of a perfect blueberry or raspberry pie in your own back yard. In the meantime, I would like to invite my readers to send in their favorite recipes! Just go to the 'Leave a Reply' section below to submit your recipe, your name (if you like), and any fond memories that are associated with the fruit or the dish.
I work with colleagues who eat with gusto, and we would love to pass away the winter months investigating new recipes and honing our culinary skills for the summer harvest. I invite you to do the same. Bon appétit!