Garden Snowdays
Posted in Around the Garden, Photography on February 11 2013, by Matt Newman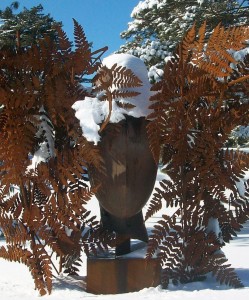 A blizzard's aftermath is often far from charming, especially when you're out on a Saturday, shoveling your way to the curb in soaked pant cuffs. Slushy sidewalks and snowed-in parking spots are no better. But when you're not obligated to clean up the mess, those first moments after the snowfall can be magical. That was certainly the case here at the NYBG over the weekend (though our dedicated groundskeepers might beg to differ).
The snow that Nemo brought to the northeast covered the Garden in a fluffy white blanket, framing the dark trunks of the trees and making for picturebook scenery. And while we were quick to clear the roads and walkways, we left the great lawns and the Forest relatively untouched; only this morning, walking into work, I found the snowy lawn surrounding the Grand Allee laid out under a sheet of mist brought on by the falling rain.
But while my Saturday was spent unearthing my Hyundai from its makeshift Everest in Long Island, our photographer, Ivo, was on the scene immediately after the storm, snapping pictures of the fresh snowfall. He was kind enough to supply a few of them for us to toss up here, as well as our Facebook page, so have a look!


While the rain is doing what it can to wash away our snowy acres, I suspect Nemo's scenery will be sticking around for at least another day or two. And we're open to the public Tuesdays through Sundays, so that's all the opportunity you need to see snow as it was meant to be seen: without a shovel in your hand! After you've taken in the vistas, be sure and head over to the Enid A. Haupt Conservatory, where Tropical Paradise continues through February 24.