Kid-Friendly Annuals
Posted in Gardening Tips on May 28 2013, by Sonia Uyterhoeven
Sonia Uyterhoeven is the NYBG's Gardener for Public Education.
---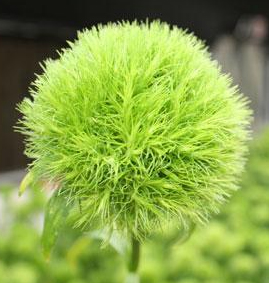 This winter I attended a lecture by Bill Calkins, Retail Business Manager for the Ball Horticultural Company, a well-known seed company founded in Chicago at the turn of the 20th century. Its reputation for innovative new introductions and high quality product lines—including Simply Beautiful Gardens and Burpee Home Gardens—is renowned in the industry.
I enjoyed Calkins' lecture not only because it covered an impressive array of new annuals and improved varieties flooding the market, but cast the subject of annuals in a refreshing light. The highlight was his discussion of the Dr. Seuss garden, a child-friendly garden containing fun and bizarre-looking annuals to inspire the imagination. Any initiative to encourage children to explore and engage in the natural world is a good one, so this endeavor sounds really fun. And, after all, who doesn't like Dr. Seuss' wild and wacky creations?

The first annual that Calkins discussed in particular was Dianthus barbatus 'Green Ball'. This groovy, flowering sweet William is not truly an annual—it is a biennial or short-lived perennial—but it is easy to use as an annual in your garden. What is notable about 'Green Ball' is its flower; this mutant sweet William produces a soft, mossy, bright green ball in place of a traditional bloom. It is squishy, squeezable, and a tactile delight all around. Not surprisingly, these green pompoms with their sturdy, carnation-esque stem have hit the cut flower industry by storm. Rumor has it that they can last up to four weeks in a vase, though the threat of bacteria build up, not to mention the stench to follow, makes me think keeping any flower in a vase for that long is a bad idea.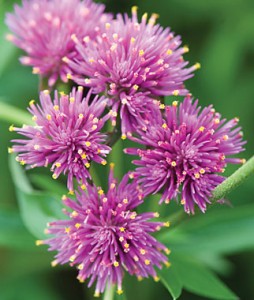 Another annual with "wow" factor is the best-seller Gomphrena 'Fireworks'. I have seen this globe amaranth grow in popularity over the past few years, and I am not surprised; it is a substantial annual that can easily reach three feet tall with a loose, airy habit. Its globe-like flowers is vivid pink with yellow tips that look like a haze of exploding fireworks. It also has a strong stem, making for a long-lasting cut flower. 'Fireworks' is tough and drought-tolerant, loves full sun, and thrives in lean or average garden soil, flowering from early summer into October. It makes for a valuable season-long color burst in your garden. Just remember to pinch back the tips on young plants to create a bushier shape with less sprawl.
Calkins also recommended Celosia 'Intenz', just in case 'Fireworks' is too subtle. There are three main types or flower shapes of celosia on the market, and they are all worth trying in a child-friendly garden, with plume types that produce feather flowers, spikes that create spires, and the odd-looking crest type that produces wrinkly, wavy, fan-like flowers. Celosia can range from small, compact annuals to substantial three-foot-tall specimens, so make sure you read the label before you snatch up one of these oddballs at your local garden center.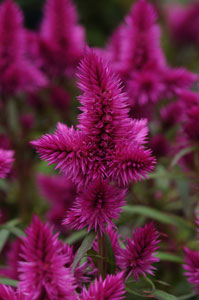 Celosia are not only low-maintenance, high impact additions to your annual border, but their soft and inviting flowers are great for a tactile garden. This annual is fairly sturdy and many varieties can handle heavy rain and still look great. I would stake the crested varieties to support their large flowers, however. The common name—cockscomb—comes from the crested type's likeness to a rooster's comb. 'Intenz' reaches 15 – 18 inches high and has showy plumes of violet-pink flowers which are sure to draw attention in your garden.
There are many fun annuals on the market these days that can inspire your kids to appreciate gardening and nature. In his lecture, Bill Calkins mentioned that a child was twice as likely to appreciate gardening as an adult if they experienced nature first-hand with their parents. That said, annuals are an easy answer for families looking to grow and enjoy their gardens without a huge expense.
---
'Green Ball' and 'Intenz' images courtesy of Ball Horticulture.
'Fireworks' image courtesy of Burpee.