Will the Real Elizabeth Blackwell Please Stand Up?
Posted in Around the Garden, Exhibitions, From the Library, People on July 1 2013, by Joyce Newman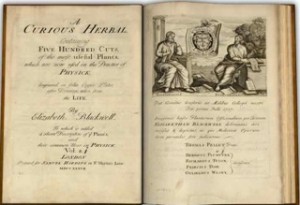 Who is Elizabeth Blackwell? If you Google the name, you'll see that in 1849 she was the first woman to receive a U.S. medical degree, opening the profession to women. But look again. An Englishwoman with the same name was also the first woman to create the illustrated medical text, A Curious Herbal (at right), which was published in 1737, and she too had a huge impact on the practice of medicine.
The extraordinary story of this talented Englishwoman and botanical artist, Elizabeth Blackwell (c. 1700-1758), is part of the Herbals exhibit now on display in the Rondina and LoFaro Gallery of the NYBG's Mertz Library.
Blackwell's illustrations deeply impressed many English physicians, botanists, and apothecaries in mid-18th century London where the tradition of the herbal endured longer than it did on the continent. In England the herbals were a close second to the Bible in popularity. And Blackwell's work was not only unprecedented for a woman of her time, but revealed the grim circumstances she faced as a wife and mother.
Her free-wheeling husband, Alexander, who practiced as a physician, was in debtor's prison due to a failed, shady business operation. So Elizabeth was desperate to earn money to support her young child and to get him released.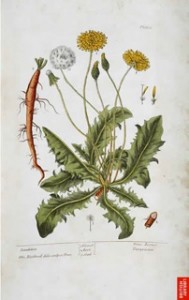 Trained as an artist, she came up with the idea for a reference book for apothecaries that would include many exotic species of medicinal plants from North and South America, at the time growing in London's Chelsea Physic Garden. She took rooms in Swan Walk, next to the garden, and began drawing plants from actual specimens, rushing back and forth from the garden, to her husband in prison who drafted descriptions for each plant. The Society of Apothecaries, founders of the garden, helped support her work as did several prominent doctors in the Royal College of Physicians.
From 1737 to 1779, working non-stop, she published four plates every week in installments, until she had produced 500 images. She drew, engraved, and hand-colored each image, managing the work that would normally require several different craftsmen. Much of her daily life and circumstances seem straight out of a Charles Dickens novel like Little Dorrit.
After two years, the complete work was published in two volumes with the lengthy title, A Curious Herbal containing five hundred cuts of the most useful plants, which are now used in the practice of physick, to which is added a short description of ye plants and their common uses in physick.
One example: Blackwell's illustration of the dandelion (above left), a common wildflower used by apothecaries as a diuretic, describes the root as "about a finger thick and eight inches long full of a white bitter milk." This substance found inside the whole plant was used to treat skin warts and corns. Blackwell also notes that dandelion leaves were "much eaten as a salad in the spring." Just right for the edible garden of 1739!
She also drew plants from the New World such as the tobacco plant (below left), whose fresh leaves could be used in ointments for wounds. Its dried leaves could cause vomiting; its dust would destroy lice. Plus, it contains a natural herbicide—nicotine—which is used today as a weed killer.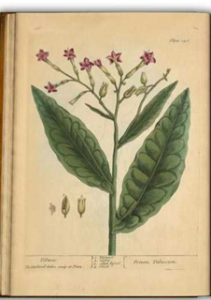 Ultimately, Blackwell was able to pay off her husband's debts and get him released, although eventually she had to sell some of her copyrights as well. Blackwell successfully marketed the book herself, by word of mouth and in journals. Several years later, her husband who had moved to Sweden, was executed having participated in a plot to change the succession to the Swedish throne.
The National Library of Medicine online archive has a virtual copy of A Curious Herbal that you can page through, viewing each illustration and text. You can also view an online version of the volume that is located in the British Library from the collection of King George III.