Creep, Crawl, Skitter and Slither
Posted in Programs and Events on September 26 2013, by Matt Newman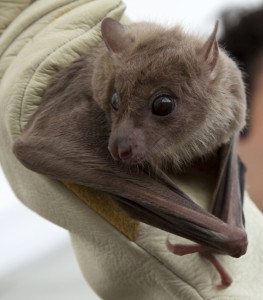 I like to think tarantulas, hissing cockroaches, snakes, lizards, and bats are actually the coolest animals in the kingdom, but then again, I was the de facto bug catcher and snake charmer in my neighborhood as a kid; I could be a little biased. Now, for those of you who aren't entirely keen on making friends with an eight-legged arthropod in an everyday setting, Halloween brings up a handful of opportunities to challenge your fears and jump in on a little creepy-crawly education.
On weekends throughout October, the Clay Family Picnic Pavilions transform into a showcase of legs, wings, and scaly things as experts from local outreach programs introduce the creatures from around the world that, for some, inspire no end of the proverbial willies. The thing is, most of them are not only perfectly friendly, but beyond fascinating. These hands-on animal presentations might even put a dent in the thrill of watching B-movie creature flicks for some of you, especially once you've gotten to know the scorpions, giant millipedes, spiders and boa constrictors that you might otherwise run from.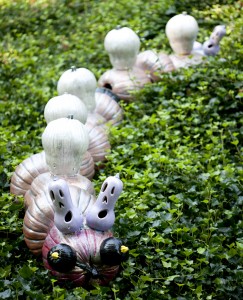 Columbus Day Weekend steps up the creep factor on an exponential scale when Rob Mies, a conservation biologist with the Organization for Bat Conservation, joins us in the Pavilions with a cadre of leathery, winged weirdos that you might sometimes see cutting a sketchy silhouette in the night sky. Okay, I'm overstating it—bats aren't weird in the least (and very few of them resemble Dracula) if you learn to appreciate and respect them, and they're not only adorable and interesting mammals, but integral to the environments in which they live. Mies will bring along a Big Brown Bat from here in North America, as well as a Gigantic Flying Fox from Malaysia, which happens to be the largest bat on Earth. We'll be exploring these unique creatures' environmental benefits, habitats, and nocturnal strategies, but I won't lie: it's also a thrill to be that close to such a specialized animal.
You can find out more about the schedule through our Haunted Pumpkin Garden programs portal, where there's also a useful list of visiting creatures for those of you with particularly potent phobias (just looking out for you!). In the meantime, the Haunted Pumpkin Garden frights up the NYBG from now through October 31 with Spooky Nighttime Adventures, Ray Villafane's weekend carving of some of the largest pumpkins grown in the country, and all the creeptastic romps among the jack-o'-lanterns you can fit into this first month of autumn.