Sanctuary: Serene Outdoor Spaces
Posted in Adult Education on March 27 2014, by Plant Talk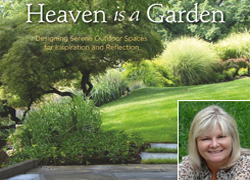 NYBG instructor Jan Johnsen designs gardens on three principles: simplicity, sanctuary, and delight.
These three ideas, she said, help us return to a kinship with the natural world, so we can quiet our thoughts and enjoy the present moment in our busy lives.
Johnsen, who has taught Landscape Design at NYBG off and on for almost 20 years, recently released a book, Heaven is a Garden: Designing Serene Outdoor Spaces for Inspiration and Reflection, in which she offers her unique perspective on designing with reflection in mind She hopes to use her book as a tool to open people's eyes to a deeper understanding of power and place in nature and to appreciate all aspects of the world around us, even rocks, which she believes "have resonance."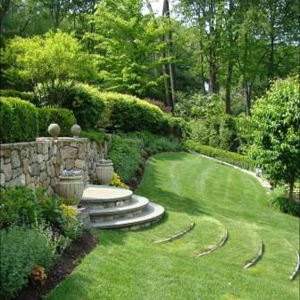 Her design secrets, all of which contribute to a garden's serenity, are easy to understand and follow, as she explains in her book.
"If you use simple, curving lines and offer a sheltered corner in which to sit, along with a delightful feature, such as a pot of flowers, a weeping cherry, or an impressive boulder, you will have created a little peaceful spot that everyone will enjoy," she said.
Of course, Johnsen designs garden spaces much more massive than such a peaceful little spot, like one she designed for the Making Headway Foundation in Chappaqua. The organization uses the garden to host their annual party for children and families affected by brain and spinal cord tumors.
Making the steeply sloped property accessible was a major challenge in creating a healing environment where even children in wheelchairs could maneuver freely and playfully. She made sure there are gently sloped areas for safe wheelchair navigation, and designed pathways in the woodland garden wide enough to accommodate wheelchair traffic, including u-turns and passing. A circular area with a central fountain with water rolling down a statue was accessible for children to reach out and touch.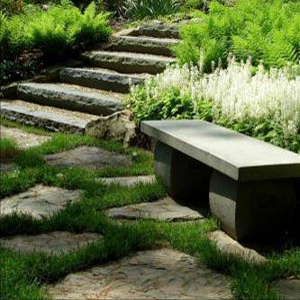 In earlier years, other hillside locales made a great impact on Johnsen's work. In her twenties, she moved to Washington, D.C., and lived mere blocks away from Dumbarton Oaks, one of Beatrix Farrand's masterpieces. Farrand, a pioneering landscape architect during the Gilded Age, turned Dumbarton Oaks from a steep slope into magnificent outdoor rooms, allées, and perennial gardens.
"I took her idea of grass treads and still use them in my projects today," Johnsen explained. "I talk about that in my book."
Although gardens are intentionally peaceful and serene places, Johnsen notes a market trend toward meditation and healing gardens.
"We are all a little too stressed these days and need to literally 'unplug' from our life for a while," she said. "There's no better way to do this than in a garden designed for inspiration and reflection."
Jan Johnson will teach Creating Gardens of Serenity on April 16 at the Garden.
---
Landscape designs and photographs courtesy of Jan Johnsen.