Daffodil Dreamscape
Posted in Horticulture on April 25 2014, by Kristin Schleiter
Kristin Schleiter is the NYBG's Associate Vice President of Outdoor Gardens and Senior Curator. She oversees the wonderful gardening team that keeps our flowering gardens looking topnotch, curates the herbaceous gardens and collections, and manages the curator of woody plants. She lives and gardens in Fairfield, CT.
---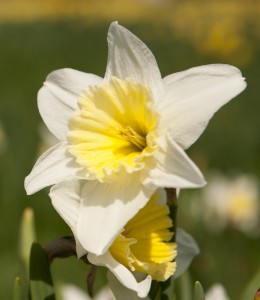 It's daffodil time! That dreamy, delicious time of year when even the greyest day is made brilliant by masses of cheerful blooms.
I'm often asked which is my favorite daffodil. It's like asking me which of my children I love the most! I adore the slightly green, buttery yellow trumpet 'Pistachio' who is so handsome next to lavender pansies. But then 'Surfside' just blooms so enthusiastically with her swept back white petals and her frilled cup that fades to cream. How could I not pick her? And of course 'St. Keverne' is marvelous too. His rich golden yellow blossoms stand tall and strong and he perennializes so fabulously!
If you have a garden, really any kind of a garden except for a very wet site, and you don't have any daffodils in it, plant some this fall! Simply plant them 3 times as deep as the bulb is tall with the root end down. If you aren't sure which is the root end, plant them on their side and they will find their way! When choosing a variety, look for those that are described as being good perennializers. Daffodils will perform their best in full sun in well-drained soil, but they are very forgiving. We have swathes of daffodils planted in lawns here which make such marvelous spring scenes, but you have to be sure to leave their foliage up for at least 6 weeks before you mow.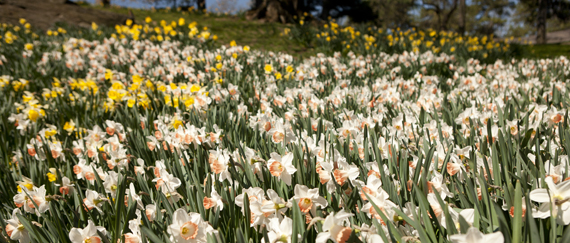 Of course, the very best way to choose what to plant in the fall is to come see them in person this spring. Our grounds are now a living catalog, so come find your favorites!