Posted in Horticulture on November 12 2014, by Kristin Schleiter
Kristin Schleiter is the NYBG's Associate Vice President of Outdoor Gardens and Senior Curator. She oversees the wonderful gardening team that keeps our flowering gardens looking top notch, curates the herbaceous gardens and collections, and manages the curator of woody plants. She lives and gardens in Fairfield, CT.
---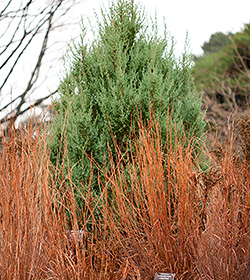 Most of our gardens evolve through the seasons, and I look forward to seeing the next wave of loveliness all spring and summer. It may be November, but we are just coming in to one of my favorite times. Most people think of perennials for their lovely flowers, but many perennials have more to offer—beautiful fall color!
Even as the trees and shrubs are glowing with their fall display, perennials in the garden add their own distinct light. The broad leaves of Penstemon digitalis sing in scarlet and ruby. Graceful, feathery Amsonia hubrichtii ripples with the wind, showing off golden and burnt orange hues. Many of the garden geraniums, most notably Geranium wlassovianum, are simply amazing with their Jacob's coat of orange, gold, scarlet, and purple. Even hosta—those the deer haven't eaten, anyway—bring touches of lemon or gold into a shady spot.